The Vienna Ring Road (Ringstrasse)#
Translation from German by H. Maurer, Dec. 2014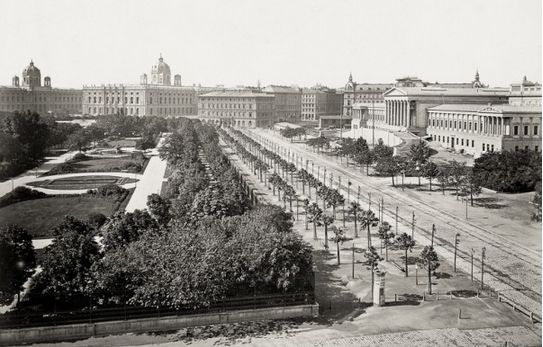 The Ringstrasse ( popularly "The Ring " ) , is a magnificent road around the inner city of Vienna ( on 3 sides, supplemented in the Northeast by the quay on the Danube Canal.

It was built on the Resolution of Emperor Franz Joseph I. , 20. 12. 1857 replacing the old attachment and defenses ( bastions and glacis ) as the city expanded.

In an international competition , 3 projects of Ludwig Christian Friedrich Förster , August Siccard of Siccardsburg , Eduard van der Null and F. Stache won in 1858 . In its spacious design the urban design ring road is quite unique: it is 6.5 km long , 57 m wide, has 2 lanes and was opened on 1 5th 1865 .

The monumental buildings along the Ringstrasse submitted by Sicard Sicardsburg and van der Null ( Staatsoper ) , Gottfried Semper and Carl Freiherr von Hasenauer ( Natural History and Art Museum, Burgtheater and the New Castle ) , Heinrich Freiherr von Ferstel (Votive , New University , Museum and Academy of Applied Arts ) , Theophil Freiherr von Hansen ( stock market, Parliament, Academy of Fine Arts , former Heinrichhof ) were completed between 1869-1888 .

The financing of these buildings was largely from of the proceeds of the sale of fortifications, fortresses and opne space formerly used to be aböe to spot approaching enemies soon (the "Glacis"). Between the buildings are the Castle Garden (Burggarten), Public Garden (Volksgarten), City Hall Park and the City Park (Stadtpark).

The historicizing style of the Ringstrasse was called ring roads style. Compared with the buildings of the period in other large cities private houses on the ring road are of more restrained elegance, so that their character as palaces of the former aristocracy of money is less obvious; today they are mostly used as office and commercial buildings .

In addition, the Ringstrasse features many luxury hotels ; the number of the once famous Ringstrasse cafes is decreasing, but some like "Landtmann" still retain the old flavor. The ring road is the road for parades and demonstrations (May Day) , especially in its section between the City Hall and the Parliament. Since it is closed for heavy transports, a stretch of road was built parallel to it a bit further out, popularly called "Lastenstrasse", meaninng "road for heavy transports".