The Kreisky-Lane Bruno-Kreisky-Gasse named after one of the most famous chancelors of Austria looks rather disappointing when you see it the first time.
It is quite short. No building has an entracne door or a number... simply because all buildings are part of a goverment complex with a single heavily guarded entrance.


Indeed nothing seems extraordinary, except that the lane is constructed not of small granite cubes as usual, but with large granite blocks. The story goes that when Kreisky saw that the road would be built with small stones, he protested: "This is government area. In case of demos, people will rip out the stones to throw them at cars, people or what have you. NO: you will use big blocks of granite that nobodody can throw". Is the story true? Who knows!

The fountain is probably the only remarkable thing to see. But it is remarkable. It is made from the largest piece of of Lasurit (18 tons!) (a semi-precious stone) ever found in the world, in the Chilean alps at an altitude of almost 4.000 m and donated to Kreisky and scupltured into a fountain.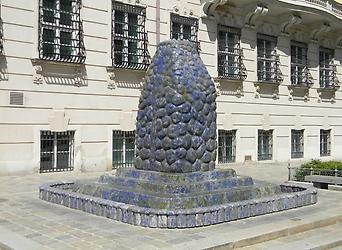 The fountain is resting on a base, and is admired by the few tourists who go througt the lane. They fortunately do not know that the material the fountain is made of is semi-precious stone or probably many pieces would havbe been broken out by now and taken home as valuable souvenir.