Tash-Hauli Palace - Harem#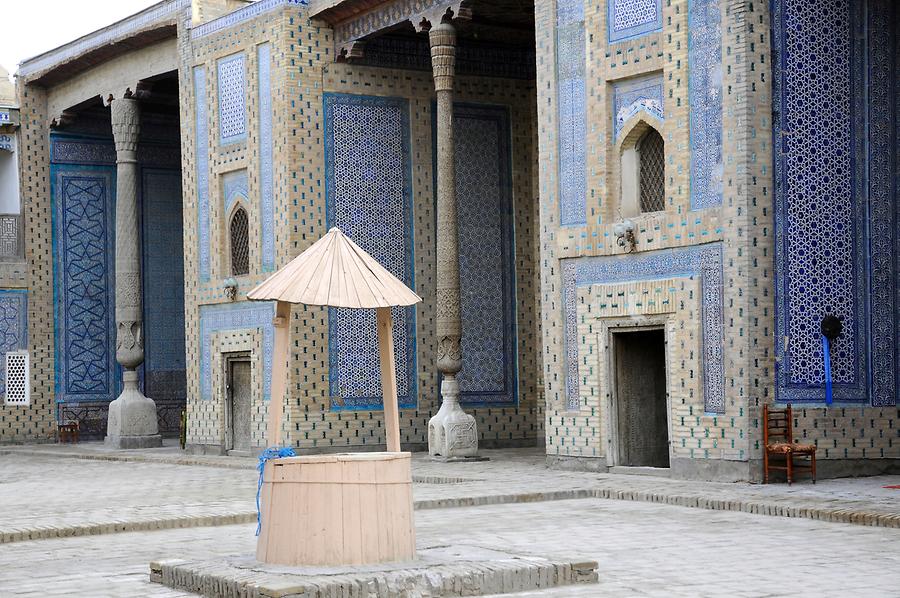 In the palace, the harem took up more than half of the total area. Five shaded Liwans separate similar equal living areas where the ruler lived with his four principal wifes. On the opposite side lived the secondary wives and the servants. The word 'harem' refers to the Arabic word 'haram' meaning 'prohibited'. To enter this area was strictly forbidden for all men except the ruler. Excessive life, wild passions, or unrestrained orgies - nothing of the sort in the Central Asian harems. Instead, modesty shaped the strictly regulated life in the harems of the khans.
Im Palast nahm der Harem mehr als die Hälfte der Gesamtfläche ein. Fünf schattige Liwane trennen gleichartige Wohnräume, in denen der Herrscher mit seinen vier Hauptfrauen lebte. Auf der anderen Seite wohnten die Nebenfrauen und Bediensteten. Das Wort "Harem" geht auf das arabische Wort "haram", d.h. "verboten" zurück. Das Betreten des Bereiches war für alle Männer außer dem Herrscher streng verboten. Von ausschweifendem Leben, ungezügelter Lust und hemmungslosen Orgien war zumindest in den zentralasiatischen Harems jedoch keine Rede. Vielmehr prägte Sittsamkeit das streng reglementierte Leben in den Harems der Khane.