City Wall#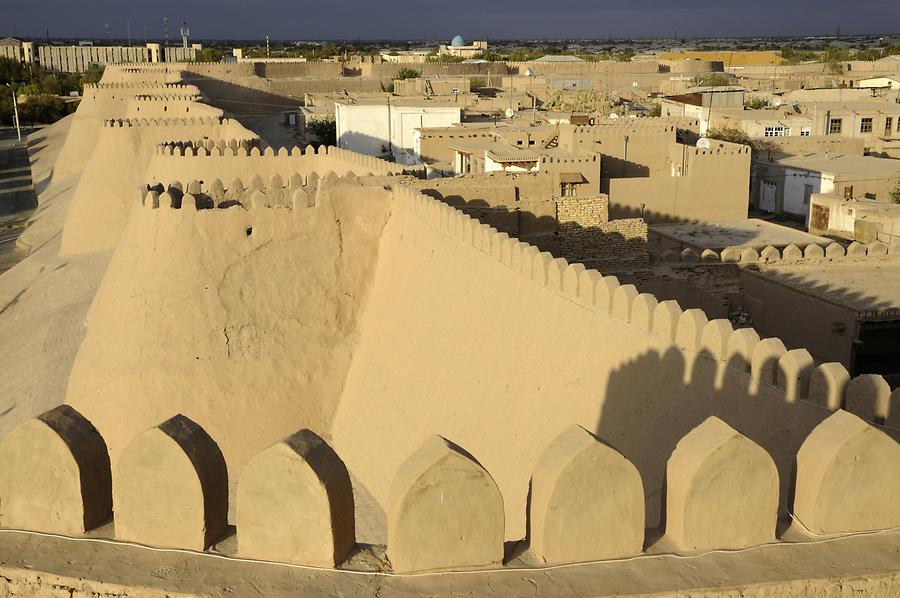 After the Amu Darya once again had changed its river course and cut off Konye-Urgench from its water supply, the capital of the Khwarezmid empire was transferred to Khiva
Khiva, Uzbekistan
. The Islamic Khanate of Khiva had to surrender as late as in 1920 to the advancing Soviet troops. Today, the desert metropolis with its 60,000 inhabitants is a living open-air museum, like an oriental oasis city from 'Arabian Nights'.
Nachdem der Fluss Amudarja wieder einmal seinen Lauf geändert und Konye Urgench von der Wasserversorgung abgeschnitten hatte, wurde die Hauptstadt der Khorezm-Dynastie nach Chiwa
Khiva, Uzbekistan
verlegt. Das islamische Khanat von Chiwa musste sich erst den vorrückenden sowjetischen Truppen 1920 geschlagen geben. Heute ist die Wüstenmetropole mit ihren 60.000 Einwohnern ein lebendes Freilichtmuseum, eine orientalische Oasenstadt wie aus 1001 Nacht.