Taq-i Telpaq Furushon#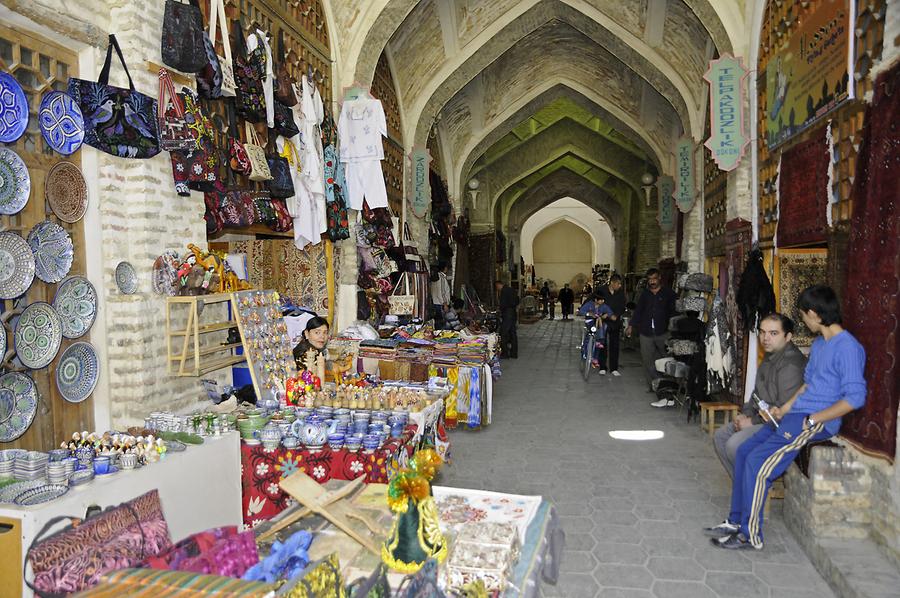 Already in the Middle Ages commercial buildings were built on the most important road crossings, named after the respective trades. In one of them the jewelers canvassed, the money changers resided in another one. There were stores for cloth-makers, arrow makers and flour traders. In its vicinity developed lively bazaars, which founded Bukhara's legendary reputation. This is what a dictum says: 'What you cannot get in Bukhara, you cannot get anywhere.'.
Schon im Mittelalter wurden an den wichtigsten Straßenkreuzungen Handelsgewölbe errichtet, die nach den jeweiligen Gewerken benannt sind. In einem warben die Juweliere um Kunden, in einem anderen residierten die Geldwechsler. Es gab Gewölbe für Tuchmacher, Pfeilhersteller und Mehlhändler. Im Umkreis entwickelten sich lebendige Bazare, die Bucharas legendären Ruf begründeten. So lautet ein geflügeltes Wort: "Was man in Buchara nicht bekommt, gibt es nirgendwo.".