Jumeirah Beach Hotel#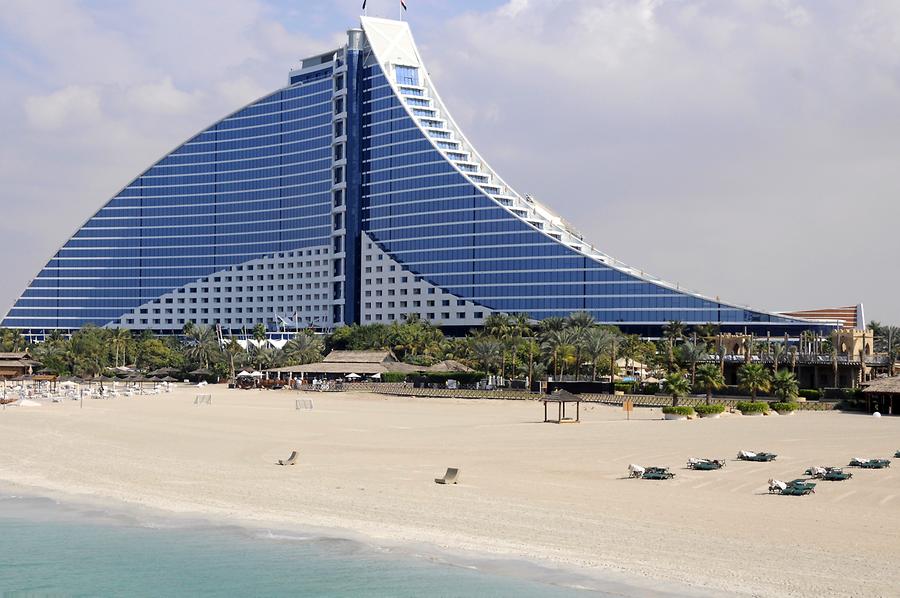 Top-level luxury is promised by an autonomous hotel complex in the south of Jumeirah: The Jumeirah Beach Hotel
Dubai, Jumeirah Beach Hotel
. It belongs to the Jumeirah Group, an exclusive hotel chain that is owned by the ruling family of Dubai. The modern 700 room Jumeirah Beach Hotel is a prelude. It pampers its guests with more than 20 restaurants and bars, it is particularly family friendly and quite rightly is called a five-star plus hotel. The adjacent Jumeirah Madinath touts for guests with its six stars. The two interconnected hotels Mina A 'Salam and Al Qasr come next and have 800 suites to offer. These giant hotel complexes are overlooked by the much-praised, sole 7-star hotel of our planet, the Burj al Arab.
Luxus in höchster Vollendung verspricht eine autarke Hotelstadt im Süden Jumeirahs: das Jumeirah Beach Hotel
Dubai, Jumeirah Beach Hotel
. Sie gehört zur Jumeirah Group, einer exklusiven Hotelkette, die sich im Besitz der Herrscherfamilie von Dubai befindet. Den Auftakt bildet das moderne 700 Zimmer Jumeirah-Beach-Hotel. Es verwöhnt mit über 20 Restaurants und Bars, gibt sich besonders familienfreundlich und darf sich zurecht als 5-Sterne-Plus-Herberge bezeichnen. Im angrenzenden Madinath Jumeirah wirbt man gerne mit 6 Sternen. 800 Suiten haben die beiden miteinander verbundenen Hotels Mina A´Salam und Al Qasr zu bieten. Überragt werden die Gästeburgen vom vielgepriesenen, einzigen 7-Sterne Hotel unseres Planeten, dem Burj al Arab.