Women at the Heritage Village#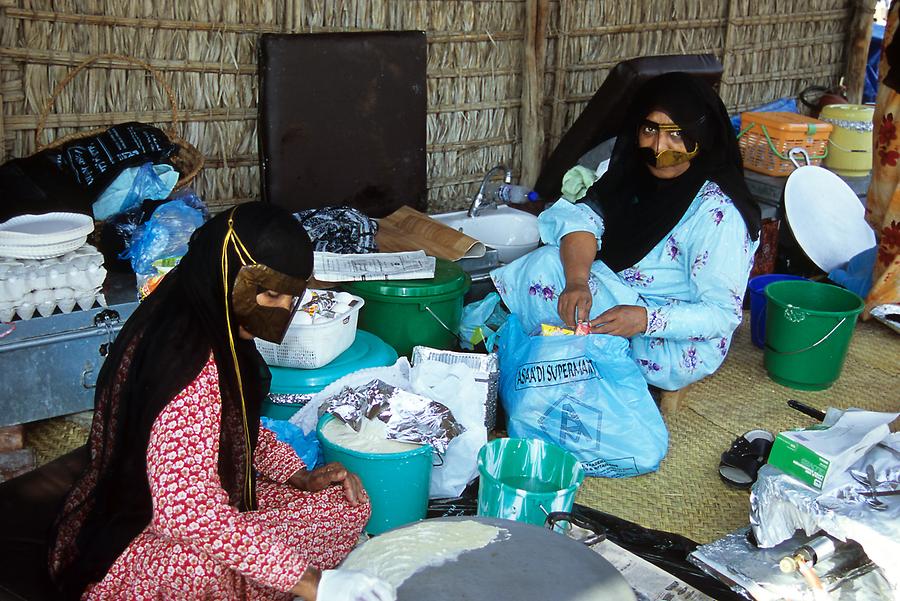 The family is the center of Arab life. It arranges the marriage of its children. The solidarity between the siblings remains strong throughout their life. Older family members enjoy the highest respect. In the liberal oriented Emirates the situation of women has improved significantly over time. All the girls go to school, 70% of the students are female. Women in the Emirates even achieved to become top managers and ministers. But the Arabic system of names, however, follows the father-son or father-daughter line as ever. The name of the current ruler Sheikh Mohammed bin Rashid Bin Saeed Al Maktoum could serve as an example: Sheikh is his title. Bin means "son of" Rashid, who in turn was the son of Saeed. Al Maktoum names the family, which in turn is part of a tribe, in this case, the Bani Yas.
Die Familie ist das Zentrum arabischen Lebens. Sie arrangiert die Verheiratung ihrer Kinder. Der Zusammenhalt zwischen den Geschwistern bleibt zeitlebens groß. Ältere Familienmitglieder genießen hohen Respekt. Die Situation der Frauen hat sich in den liberal ausgerichteten Emiraten im Laufe der Zeit deutlich verbessert. Alle Mädchen besuchen eine Schule, 70% der Studierenden sind weiblich. Frauen haben es in den Emiraten sogar bis zum Rang von Top-Managern und Ministern gebracht. Das arabische System der Namen jedoch folgt wie eh und je der Vater-Sohn bzw. Vater-Tochter Linie. Ein Beispiel wäre der Name des derzeitigen Herrschers: Sheikh Mohammed bin Rashid Bin Saeed Al Maktoum. Sheikh ist sein Titel. Bin heißt "Sohn von" Rashid, der wiederum der Sohn von Saeed war. Al Maktoum bezeichnet die Familie, die wiederum Teil eines Stammes ist, in diesem Fall der Bani Yas.