Report on some top Pakistani politicians#
by Haris Naeem, August 2017

Part of the information is taken from English Wikipedia.
Introduction#
In a country with over 200 million population, there are clearly many persons who are famous in their respective fields and have substantially contributed to the country. In what follows we mention some of the famous personalities of Pakistan in the field of politics together with a description Of their personal life, work and achievements.
Muhammad Ali Jinnah#
Personal Life #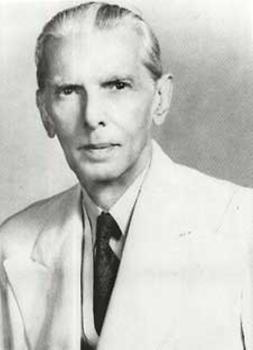 Quaid e Azam Muhammad Ali Jinnah (25 Dec. 1876-11 Sept. 1948), known as Jinnah for short, was the founder of Pakistan. He was born in Karachi Karachi to a Gujarati family and was educated at Lincolns Inn, England to become a lawyer. He began his law practice at the age of twenty in Bombay where he soon rose to fame due to his excellent handling of cases. He was the only Muslim barrister in the city at that time.
Jinnah was married to Emibai in 1892 and again to Rattanbai Petit in 1918. The latter was from a wealthy Parsi family and had to face much opposition from her parents after marriage with Jinnah. They were known to be very devoted to each other.
Politics#
The unrest in the subcontinent in late 19th century was not unnoticed by Jinnah. Gradually, he became involved in politics by attending Congress meetings. His interest in politics was already influenced by British liberalism which he witnessed during his study in the UK.
Therefore, he entered politics in 1906 through Indian National Congress. Jinnah was an ardent advocate of Hindu-Muslim unity in the early years of his career. He helped to introduce the Lucknow Pact (1916) between Congress and All-India Muslim League. Though still a member of the Congress, Jinnah joined the Muslim League in 1913 and proposed his fourteen point constitutional reforms to safeguard the political rights of Muslims. This, however was not received well by the Hindus who criticized him for his pro-Muslim thoughts. These disagreements and the eventual practice of non-cooperation with the British (Satyagraha), led by Gandhi, Gandhi forced him to resign from the Indian National Congress in 1920.
The Hindu-Muslim relations remained strained throughout the 1930s. Jinnah spent most of his time in England in these years. He was called to India repeatedly by his colleagues who urged him to take control of All India Muslim league. Finally, he returned to India in 1934 to become the permanent president of the League and started to organize the party along with his colleagues Aga Khan, Chaudhary Rehmat Ali and Liaqat Ali Khan. Muslim League emerged as a strong party and was able to win significant number of seats in Muslim electorate but failed to win major seats in Muslim majority provinces like Punjab and Sindh. Jinnah's continuous demand for separate electoral rights for Muslims was not met with success with the Hindus and repeated negotiations between the two parties failed to achieve anything worthwhile. By this time, Allama Iqbal had already called for an independent nation for Muslims in his famous Allahabad address of 1930. Chaudhary Rehmat Ali also supported the idea through his pamphlet "Now or Never".
Eventually, Jinnah also came to the conclusion that Hindus and Muslims are two separate nations and they cannot live together. This view was later known as 'two nation theory'. Consequently, the League started its efforts towards an independent state for the Muslims. The Lahore Lahore Resolution was passed on 23rd March 1940 which called for a separate country for Muslims that was to be called 'Pakistan'. Gandhi was of the view that both Hindus and Muslims should live together and sort out their differences and for this reason he held many meetings with Jinnah known as 'Gandhi Jinnah Talks (1944)'. However, Jinnah was now determined to fight for an individual nation, so the talks failed.
It was a continuing struggle for the Muslims in the years after 1940. Jinnah founded the Dawn newspaper in 1941 in order to present views of Muslim League and convince Hindus and Muslims that they should now work together to achieve a separate nation which would be their only chance of survival. Viceroy Lord Mountbatten, after meeting with Jinnah proposed the plan of holding referendums in various states of the subcontinent regarding their choice of which country to join. It was finally on 14th August, 1947 that Pakistan emerged as an independent nation with Jinnah as its first Governor General.
In his opening address to the National Assembly, Jinnah called Pakistan a secular state in which all people, whether from any religion or caste, would have equal rights. In the first year of independence there was much violence and instability in the subcontinent.
By some estimates around one million people were killed during the migration of Hindus to India, of Muslims to Pakistan. Other sources mention still much higher numbers. This level of bloodshed was distressing for Jinnah and all other leaders and to this day, the world cannot forget those people who lost their lives in the struggles around an independent Pakistan.
It was a short time that Jinnah had left to serve the country because he died on 11th September, 1948 due to lung cancer. His illness was dating from many years but he had kept it a secret from the nation. The death of Jinnah was a major blow to the people because they had lost the father of the nation after just one year of its independence.
Though some people believe that Jinnah's two nation theory was not the best of solutions to the Hindu-Muslim disunity because after the birth of Pakistan there were great problems regarding funds, princely states, water issues with India and the Kashmir issue, Kashmir Conflict. Many of those problems are still not solved today. Moreover, Jinnah's terminal illness was unknown by the people which meant that after his death, they had a to find a suitable substitute in the country, difficult at that time. However, the birth of Pakistan brought about an independent nation in which Muslims could live freely and exercise these rights without any interference from the British or Hindus.
Therefore, the decision for a separate country is supported by many people around the world, including Indian politicians. Jinnah is known as 'Quaid e Azam' (Great Leader) in Pakistan. His photo is shown on all banknotes in Pakistan along with other honors bestowed upon him in Pakistan and also other Muslim states such as Turkey and Iran. He is buried in Mazar e Quaid, Karachi. Karachi's airport is known as 'Jinnah International Airport'.
Zulfiqar Ali Bhutto#
Personal Life#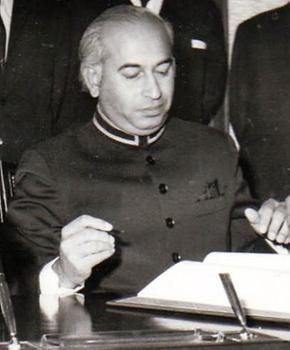 Zulfiqar Ali Bhutto (5 Jan. 1928-4 Apr. 1979), known as Z.Bhutto for short, was a Pakistani politician and former Prime Minister of the country from 1973-77. Z. Bhutto was born to a Muslim Gujarati family in Sindh. He was educated at the University of California, Berkley, earning his degree in political science followed by LLB from Oxford University. He started his law practice in Karachi and also managed his family's estate and business interests after his father's death.
Z. Bhutto married twice in his lifetime, first to Shireen Amir Begum in 1943. He remarried Begum Nusrat Ispahani on September 8, 1951. The couple had four children; Benazir, Murtaza, Sanam, Shahnawaz. Nusrat and her daughter Benazir were very active politically and were arrested several times over their support for Z. Bhutto.
Politics#
Z. Bhutto was a Pakistani socialist and a lover of democracy. In 1957, he became the youngest member of Pakistan's delegation to the United Nations (UN). Z. Bhutto also became the youngest cabinet minister that same year. In 1960, he was awarded the Ministry of Water and Power by Ayub Khan with whom he became very close. He played an important role in negotiating the Indus Water Treaty (1960) with India. In 1963, Z. Bhutto became the Foreign Minister for Pakistan. His term at the ministry is considered as the best for Pakistan in terms of Foreign policy.
He had maintained close ties with China, Germany, USA by negotiating several treaties between the countries but at the same time, he had a firm stance on the political rights of Pakistanis. Z. Bhutto maintained an aggressive policy towards India. When in 1965, he was told about India's Nuclear programme, he said that Pakistan will fight and build its atomic bomb even if the people have to eat grass!
He resigned from the foreign ministry in June 1966 after his disagreement with Ayub Khan over the peace treaty signed with India at that time. The years following this saw him in jail several times over his pro-democracy protests and opposition to Ayub Khan. Ayub retired in 1969 owing to political pressure. On 16th December 1971, East Pakistan turned into a separate state called Bangladesh Bangladesh .
Then president, Yahya Khan faced bitter opposition due to the defeat of Pakistani forces against India in East Pakistan. Eventually, he resigned 4 days after the separation and transferred power to Z. Bhutto who stepped in the office of President of Pakistan at a most critical time in the history of the nation. The country was facing a great psychological setback due to East Pakistan's independence.
Z. Bhutto had the mountainous task to get both country and its people back on track. He sent Yahya Khan on house arrest and made Gul Hasan new Chief of Army Staff. He visited India to meet then Prime Minister Indira Gandhi and negotiated a peace agreement including the release of 93000 Pakistani prisoners of war. The famous 1973 Constitutional reforms introduced a parliamentary form of Government in Pakistan. Z. Bhutto was sworn in as the Prime Minister on 14th August, 1973. This was the formal start of democracy in the country.
Apart from these constitutional reforms, Z. Bhutto is also known for his domestic reforms. In industrial sector, he ordered for the nationalization of all firms and banks in the country. This decision was met with much criticism from the people as it meant the loss of jobs for thousands of workers. Z. Bhutto paid great attention to the educational sector as well. The Government built many schools in rural as well as urban areas and several world renowned universities like Quaid e Azam University and Allama Iqbal Open University.
Land reforms were introduced including tax exemptions providing greater security to tenant farmers and the establishment of several dams and barrages. Under his economic policy, National Development Finance Corporation (NDFC) was founded in order to finance public sector industrial enterprises. The banking sector was expanded to towns and cities throughout the nation. Overall, the financial reforms increased the national income of Pakistan by 15 percent and industrial production by 20 percent in the four years following 1973.
His slogan was "Roti, kapra aur makan (Bread, clothes and home), that is what everyone wants". This gained much popularity and is still used today by political parties.
It is said that every great man has his downfall. So was the case with Zulfiqar Ali Bhutto. As his term progressed, he started to face continual opposition from rival parties like National Awami Party and others. The opposition parties also formed a grand alliance against the government but were not able to win the support of the people. However, the turning point came when General Zia ul Haq staged a military coup on 5 July 1977, imposing martial law and arresting several leaders of the Pakistan People's Party, PPP including Z. Bhutto.
Z. Bhutto was released after a month and started widespread public gatherings. However on 3rd September, he was arrested again on charges of conspiring a murder of a political opponent in March 1974.
The judicial trial lasted five months in which he appeared several times in the court. Eventually, the result announced was that Z. Bhutto was not guilty of murder but he was still sentenced to death. Many appeals were filed against the decision but to no result. Ultimately, Bhutto was hanged on 4th April, 1979 in Central Jail, Rawalpindi Rawalpindi .
Not only Pakistanis, but the whole world was shocked to hear it. People were heartbroken to learn that Z. Bhutto was no more. Popular slogans are still heard today 'Yesterday Bhutto was alive, today Bhutto is alive' and 'How many Bhuttos would you kill, Bhutto will emerge from every house'. He remains a largely discussed figure in the country. Though Z. Bhutto is also criticized for intimidating his political opponents, his widespread reforms for Pakistan are hailed by everyone. He is known as Quaid e Awam (Leader of the people) and is buried in Garhi Khuda Baksh Garhi Khuda Baksh, Sindh , Sindh along with other members of the family.
Benazir Bhutto#
Personal Life#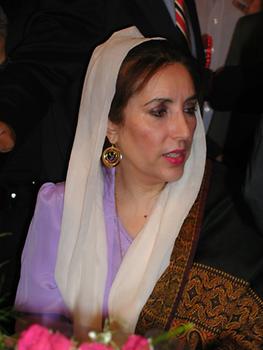 Benazir Bhutto (21 Jun. 1953-27 Dec. 2007), known as Benazir for short, was a Pakistani politician who has served as the 11th Prime Minister of Pakistan. She was the daughter of Zulfiqar Ali Bhutto and the first and only female Prime Minister of the country. She was educated at Harvard University and the University of Oxford where she was very active in student politics and debates.
She was married to Asif Ali Zardari in December 1987 in a function known as 'Peoples Wedding'. They have three children, Bilawal, Aseefa and Bakhtawar. Bilawal Bhutto is the current chairman of Pakistan People's Party (PPP) and considered as successor of her mother.
Politics#
When Zulfiqar Ali Bhutto was executed in April 1979, Benazir and her mother were imprisoned for six months and later put under house arrest. After her release in 1980, she was appointed co-chair of the PPP. Her brothers, Murtaza and Shahnawaz turned to paramilitary action founding the Al-Zulfiqar group. After the 1981 Pakistan International Airlines hijacking, the government used this as the pretext for re-arresting Benazir and her mother again. She was held in Sukkur Sukkur, Sindh jail. Later, under international pressure, she was sent to Geneva in January 1984. In the years following 1984, she spent some time in United Kingdom before returning to Pakistan in April 1986 where she was greeted by a huge crowd of supporters. In August 1988, Zia ul Haq's airplane crashed under mysterious circumstances after his flight from Bahawalpur Bahawalpur airport. The Supreme Court ordered that elections should be held on a party basis and Benazir emerged victorious.
She formed a coalition Government with Muttahida Qaumi Movement MQM. The military did not trust her: Several leaders had contempt for her family due to Zulfiqar Ali Bhutto's reforms and the fact that a women was their Prime Minister. Therefore, she was not able to pass any major legislation is her first term but ordered the release of prisoners held under Zia's regime and lifted the bans imposed on media by Zia's Government.
She paid a number of foreign visits to enhance her image as first female Prime Minister of Pakistan. She continued the science policy laid by her father and initiated several aerospace projects under Dr. Abdul Qadeer Khan. She was also very enthusiastic about Pakistan's nuclear project and continued the program despite economic and political pressure. By 1990, disagreements between Benazir and then President, Ghulam Ishaq Khan increased, as he believed he was not taken in confidence for many of the Government decisions and thought of her as inexperienced in politics.
Ultimately, in August 1990 Khan dismissed her Government under the Eighth amendment. For three years (1990-93), she served as leader of opposition to Prime Minister Nawaz Sharif's Government. She led many protests against him which resulted in house arrest for a short period.
Elections held in 1993 again saw a victory for PPP. Benazir was sworn in as Prime Minister for the second time and Farooq Laghari as President. Though she was not very popular with a large part of the population, several of her reforms were quite beneficial for the nation.
She put women into services like banks and police stations. Female judges were appointed in the women's division of the Government. She took over the Ministry of Finance herself but was not able to achieve significant growth in the nation as GDP growth rate was 4.37 percent in 1993 but fell to 1.70 percent in 1996.
The privatization policy of Nawaz Sharif was continued. However, state owned enterprises like Pakistan Railways and Pakistan Steel Mills remained in the Government's hands. Her relations with military were better than during her previous term as she carefully appointed the "right" persons in top posts. Her government is reported to have given financial assistance to the Talibans who had apparently established an Islamic State in Afghanistan.
By 1996, corruption allegations against Benazir and her husband, Asif Ali Zardari were strong. Moreover, the assassination of her brother, Murtaza in the same year and her hint that President Laghari was involved in the act brought the ultimate dismissal of her Government on 5th November, 1996.
Benazir herself was assassinated in 2007 when she returned after a long exile. It was during the reign of President Musharraf who was responsible for her security. She was shot after returning from a public rally in Liaqat Bagh, Rawalpindi (the same place where Liaqat Ali Khan was assassinated). Requests for the body to be exhumed for an autopsy were rejected by Zardari, increasing speculations in the public because PPP won the elections just two months after her death and Zardari was elected President. She is buried with her father in Garhi Khuda Baksh, Sindh. She remains one of the most important political figures in Pakistan till today.
Pervez Musharraf#
Personal Life#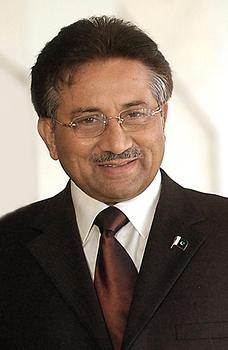 Pervez Musharraf (born 11 Aug. 1943), known as Musharraf for short, is a Pakistani politician and a retired four star Army General who served as the tenth President of Pakistan from 2001-08. He was born in Delhi during the British Raj and raised in Karachi and Istanbul where his father moved few years after Pakistan's independence. He joined the Pakistan Army in 1961. After training, he completed his Bachelor's degree from Pakistan Military Academy (PMA) in 1964. He joined Special Services Group (SSG) for commando training which comprises of the toughest physical training in Pakistan. Thereafter, he had a number of command and staff appointments in various areas of Pakistan. In 1990-91, he studied at the Royal College of Defense Studies (RCDS) in Britain where he earned his Masters Degree.
Musharraf married Sehba, a resident of Karachi in 1968 and they have a daughter, Alya and a son, Bilal.
Politics#
Musharraf was consulted on various policy issues including Afghan Civil War. Through this, he developed cordial relations with individuals from high civil institutions. He served as the Corps Commander in Mangla Mangla, Pakistan Military District from 1995-98. Musharraf was promoted to four star general despite him being third in line to succeed. The Kargil Kargil Conflict of March 1999 is very significant in Pakistan's history as it was a secret attack on Indian forces in the Kargil district led by Musharraf. Prime Minister Nawaz Sharif announced that he had no news of this coup therefore he would not support the army.
This resulted in bitter defeat for the Pakistani forces after the Indians launched a fierce counter attack. Relations between Nawaz Sharif and Musharraf were strained due to the Kargil conflict and the Prime Minister denied permission for Musharraf's plane to land in Karachi when he was returning from Sri Lanka. However, military troops surrounded the control tower at the Karachi airport and the plane was able to land.
Musharraf now met with President Rafiq Tarrar planning a military coup which was ultimately staged on 12 October 1999. Prime Minister Nawaz Sharif was put under house arrest and Musharraf assumed office of Chief Executive. Nawaz Sharif was later exiled to Saudi Arabia after signing an agreement with the military. Musharraf became the President of Pakistan on 20 June 2001, only to win a controversial referendum on May 1, 2002 which awarded him five years of presidency.
Musharraf was a key ally of United States in the war on terror. This has been much criticized due to the increasing American intervention in Pakistan, especially the drone attacks in tribal areas which were claimed to have been targeted at terrorists but many innocent Pakistani nationals have been killed in those attacks.
Musharraf has held several talks with India over the Kashmir issue , but it remains unsolved. Musharraf is known to have brought Western ideas to Pakistan due to his liberal outlook. This has been greatly criticized by Islamic councils who dislike Western culture to be practiced and shown on Media. In his years at Presidency, he survived at least three assassination attempts.
His controversial remarks about Pakistani rape victims in 2005 sparked great outrage from the women community. In an interview to The Washington Post in September 2005, Musharraf said that Pakistani women, who were the victims of rape, treated rape as a "moneymaking tactic" and were only interested in the publicity in order to make money and get a Canadian visa. He was also criticised for declaring Captain Hammad, a fellow military man accused in rape case of Dr. Shazia Khalid to be innocent before the court verdict was announced.
He supported a process of social liberalism under his enlightened moderation program, while also promoting economic liberalization and banning trade unions. He oversaw a rise in overall gross domestic product by 50%. However, domestic savings declined and Pakistan saw a rapid rise in economic inequality. On 3 November 2007, Musharraf declared the state of emergency in Pakistan and launched parliamentary elections.
The head of the Supreme Court in Pakistan, Iftikhar Muhammad Chaudhry, was deposed causing widespread protests. Musharraf announced the date of Parliamentary elections in January 2008 but this was postponed by one month due to Benazir Bhutto's assassination. By 2008, Musharraf's position had weakened dramatically and Nawaz Sharif and Asif Ali Zardari joined hands for his impeachment. Therefore, he moved to London for a self imposed exile. He has been fighting legal battles in the country's high courts when arrest warrants were issued for him regarding the assassination of Benazir Bhutto and Akbar Ali Bugti. Currently, Musharraf is the chairman of Pakistan Awami League which he founded in 2010. He has promised to return to Pakistan though a great number of law cases are awaiting him.
Imran Khan#
Personal Life#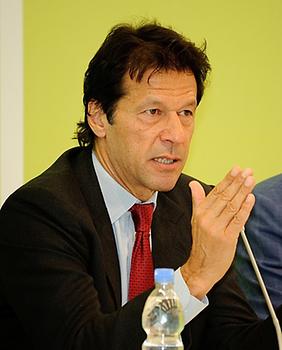 Imran Khan (born 5 Oct. 1952), known as Khan for short, is a Pakistani politician, former cricketer and a philanthropist. He is the chairman of Pakistan Tehreek Insaaf (PTI) and has been a member of the National Assembly since 2013. Khan was born to a Pashtun family in Lahore in 1952. He received a privileged education at Atchison college, Lahore and Royal Grammar School, Worcester. In 1952, he enrolled at Keble's College, Oxford to obtain a degree in Philosophy, Politics and Economics.
Khan has been a great cricket player and has led the Pakistan team to be winners of the 1992 Cricket World Cup. He has done much work in charity as well. In 1991, he founded the Shaukat Khanum Memorial Trust in the name of his mother and later constructed Shaukat Khanum Memorial Cancer Hospital by collecting donations from all over the world. The hospital treats deserving patients for free and is a leading research center of the country. Khan has remained University of Bradford's chancellor from 2005-14 and has also helped to set up National University of Modern Languages (NUML) in Islamabad Islamabad .
He was married to Jemima Goldsmith in 1995 during his stay in England. The couple had two sons, Sulaiman and Kasim. In January 2015, Khan married British-Pakistani journalist Reham Khan in a private Nikkah ceremony at his Islamabad residence. However, the match did not prove successful and they filed for divorce in October 2015, just 10 months after the marriage.
Politics#
Khan is best known to lead the Pakistan Movement of Justice and maintaining a strong opposition to the Pakistan Muslim League Nawaz PML-N Government from 2013. He led a rigorous election campaign for 2013 parliamentary elections. He had one of the largest public gatherings throughout the country and was believed to win the elections easily.
However, the results proved quite different as PML-N won by a great majority and formed a Government under Nawaz Sharif. PTI was able to win a majority in Khyber Pakhtunkhwa (KPK) province where they are currently in power. Khan's stance was that Nawaz Sharif has won elections by rigging. He organized mass protests in the nation, gathering considerable support from the public. He even took part in a 126 day sit-in in Islamabad with the demand of Prime Minister Nawaz Sharif's resignation.
However, his demand was not met and he had to call off the sit-in. In 2016, when Panama papers were announced by the International Consortium of Journalists (ICIJ) and exposed Prime Minister Nawaz Sharif's and his family's money laundering in off-shore companies, Khan started a new movement for Panama Papers Inquiry. This was accepted and an investigation was launched by the Supreme Court regarding Sharif family's assets and their sources of income. After several months of investigation, it was found out that Nawaz Sharif had concealed his assets and had not been truthful to the nation. Therefore he was disqualified from his post as Prime Minister in July, 2017.
Khan is given the credit to launch this campaign which ultimately led to the Prime Minister's disqualification. However, Khan has been described by his opponents as a 'newbie' and an inexperienced politician who had a respectable image in cricket but not in politics, he is greatly popular between the youth and upper classes of the country who refer to him as the 'leader of tomorrow'.
Khan's slogan of 'Naya Pakistan (New Pakistan)' is very famous. In it he calls for a new system free from corruption and family politics. Due to his fame from cricket and charity work, he is well known worldwide, making him one of the most popular personalities of Pakistan
References#
Akbar Ahmed: Jinnah, Pakistan and Islamic identity
Muhammad Ali Jinnah
Zulfiqar Ali Bhutto
Bhutto
Benazir Bhutto
Muhammad Ali Sheikh(2000): Benazir Bhutto, a political biography
Pervez Musharraf
In the Line of Fire
Imran Khan
Pakistan: A Personal History