Beirut#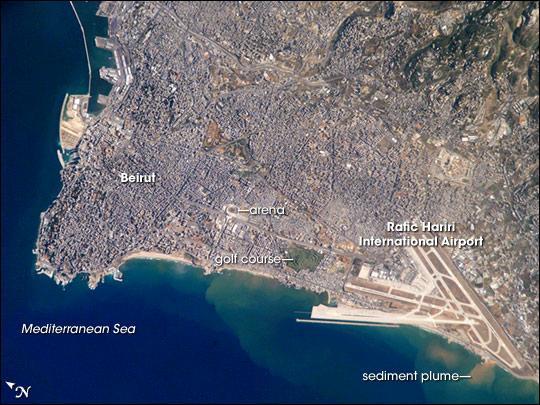 Beirut

Beirut, Gouvernement Beirut, Libanon

, Lebanons capital, is built on a small peninsula; the growth of the city eastwards is bounded by foothills of the more mountainous interior of Lebanon (upper right). Beirut has been an urban center for 5,000 years.

Throughout much of that time, the city has been the focus of both military and economic conflicts among neighboring city-states. Distinctive features visible in this astronaut photograph include the Rafic Hariri International Airport in the lower right, the city sports arena at image center, and several areas of green and open space, including a large golf course at image center.

Also visible in the photo are several plumes of sediment along the coastline; the most striking plumes are near the airport. The general lack of vegetation in the airport may allow more soil transport by surface water runoff or wind.