High-tech und hygiene (2)#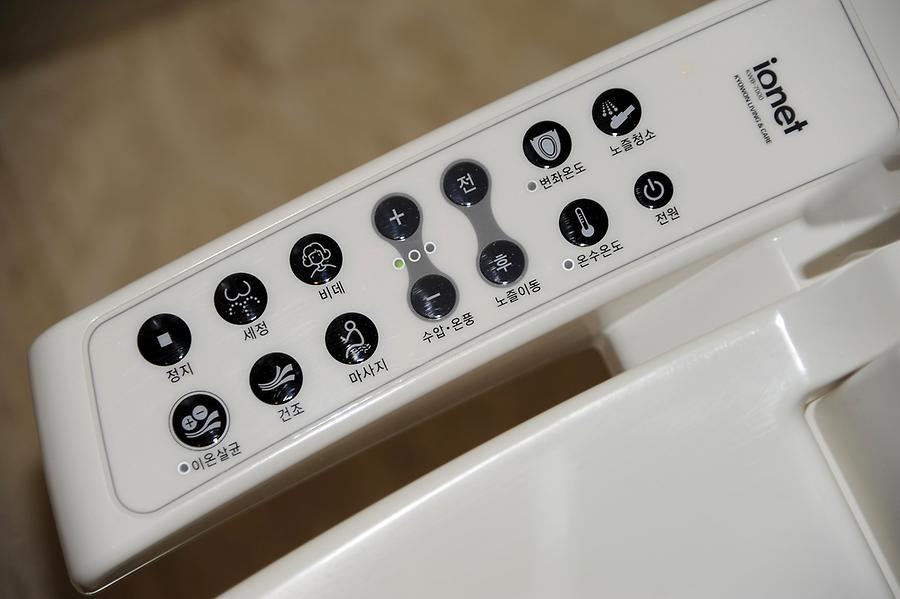 The control consol beneath the toilet may look a little intimidating. The height and temperature of the seat can be controlled as well as pressure and direction of the spray jets. Different washing programmes can be chosen, even the blowing capacity of the build-in dryer can be regulated. The most important part seems to be the sound button. It can be pushed at any time to predominate embarrising noises.

Der Schaltkonsole neben dem WC sollte man sich mit gehörigem Respekt nähern. Ob sich hinter den Tasten auch ein Schleudersitz befindet, bleibt ein Geheimnis. Fest steht: Hier lassen sich Höhe und Temperatur der Klobrille regeln, ebenso Druck und Zielrichtung der Sprühdüsen. Man hat die Wahl zwischen verschiedenen Waschprogrammen. Auch die Blasleistung des eingebauten Föhns kann man regeln. Den wichtigsten Teil des Geschäftes übernimmt jedoch die Klangtaste. Schnell gedrückt, und schon übertönt ein lauter Klang jedes Geräusch von entweichenden Körpergasen. Der unbedachte Fluch "Scheiss Computer" bekommt hier eine wörtliche Bedeutung.