Farmers#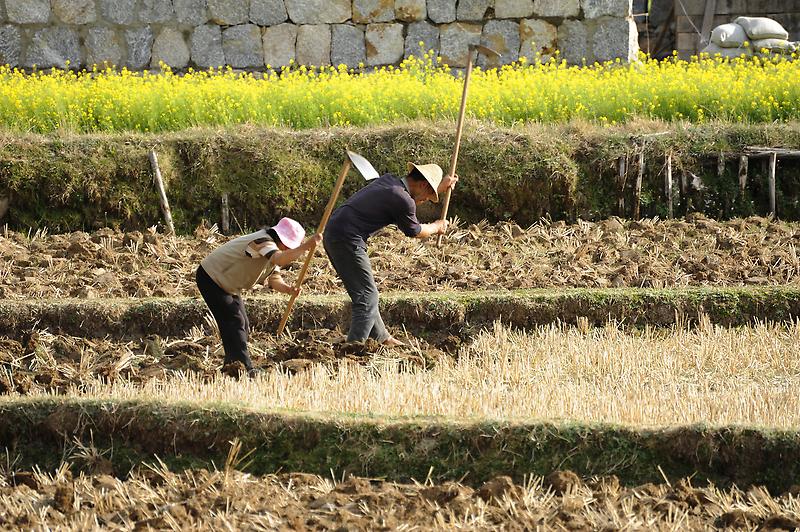 Improving the living conditions of the population was not really the aim of the Korean king. They accepted their destiny as it was. The moral standards were very high . The population grew up in a system of four classes: nobility - officials - farmers, fishers and workers plus serfs, dealers and traders. Members of lower casts were not allowed to use the language of noble men.

Farmers were not allowed to leave their land. All men had to join on a regular basis the compulsory military service. A third of the population lived in poverty. Members of lower levels had to bow in front of everybody else and even walk in a certain way.

Thereby the Koreans did get more Chinese than the Chinese itself. Their all-time discipline, their ability to suffer, their belief that hard work pays off and the internalization of the Confucian principles opened the way to the so called "Korean economic miracle".

Den koreanischen Königen ging es weniger darum, die Lebensumstände der Bevölkerung zu verbessern. Diese fügten sich ohnehin geduldig ihrem staatlich festgelegten Schicksal. Moralisch jedoch galten allerhöchste Ansprüche.
Die Bevölkerung fand sich bald in einem Vier-Klassensystem wider: Adel – Beamte – Bauern, Fischer und Arbeiter sowie Leibeigene, Händler und Kaufleute. Den minderen Klassen war sogar die Sprache der edlen Herren verboten. Bauern durften zu Überwachungszwecken niemals ihr Land verlassen. Alle Männer hatten regelmäßig Fron- und Militärdienst zu leisten. Ein Drittel der Bevölkerung lebte in Sklaverei. Die Mitglieder der untersten Schichten mussten sich vor jedermann verbeugen und sogar eine bestimmte Gehweise einhalten.
Die Koreaner wurden damit chinesischer als es die Chinesen je waren. Diese beispiellose Disziplin, eine große Leidensfähigkeit, der Glaube, es durch harte Arbeit schaffen zu können und die Verinnerlichung des konfuzianischen Grundprinzips, dass das Gemeinwohl immer über dem individuellen Wohl steht, machten viel später das koreanische Wirtschaftswunder überhaupt erst möglich.%