Temple Little Petra#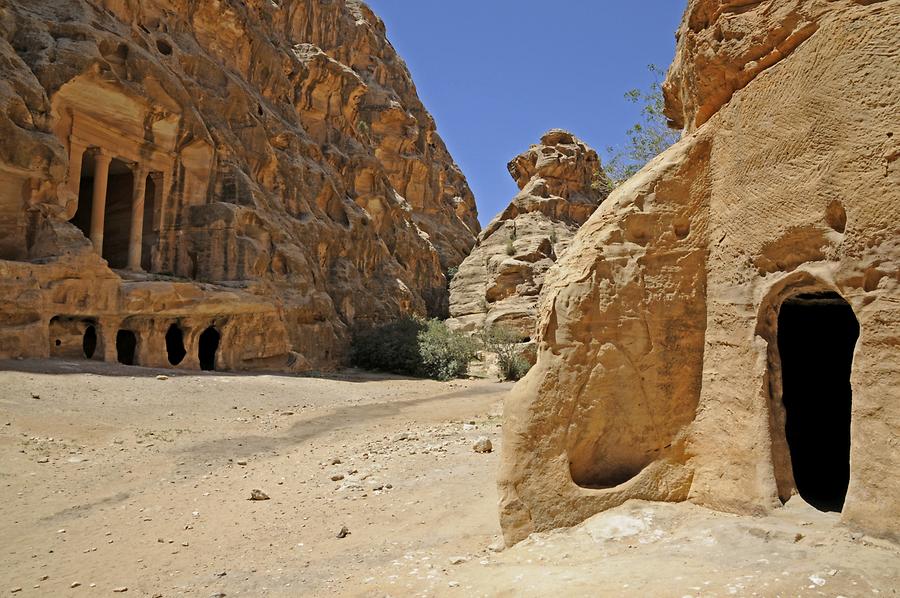 Even though many of the ruins of Petra – its graves, temples, places of sacrifice and ritual niches – obviously had religious functions, little is known about the believe of the Nabateans. Presumably they had a by comparison fairly small pantheon of gods led by the two fertility gods Dushara and al-Uzza. Later Dushara merged with Dionysus, the god of wine, because one of the Nabatean rites of the cult of the dead included a burial banquet, where wine was consumed in large quantities. Al-Uzza met almost the same fate only being merged with Aphrodite.
Obwohl viele der Überreste Petras, seine Gräber, Tempel, Opferstätten und Kultnischen offensichtlich religiöse Funktion hatten, ist über den Glauben der Nabatäer nur wenig bekannt. Vermutlich hatten sie einen vergleichsweise kleinen Götterpantheon, dem die beiden Fruchtbarkeitsgottheiten Duschara und el-Uzza vorstanden. Später verschmolz Duschara mit dem Weingott Dionysos, da einer der Riten des nabatäischen Totenkultes das Feiern von Begräbnisbanketten war, bei denen reichlich Wein getrunken wurde. Auf ähnliche Weise ging el-Uzza in der griechischen Göttin Aphrodite auf.