Temple Little Petra#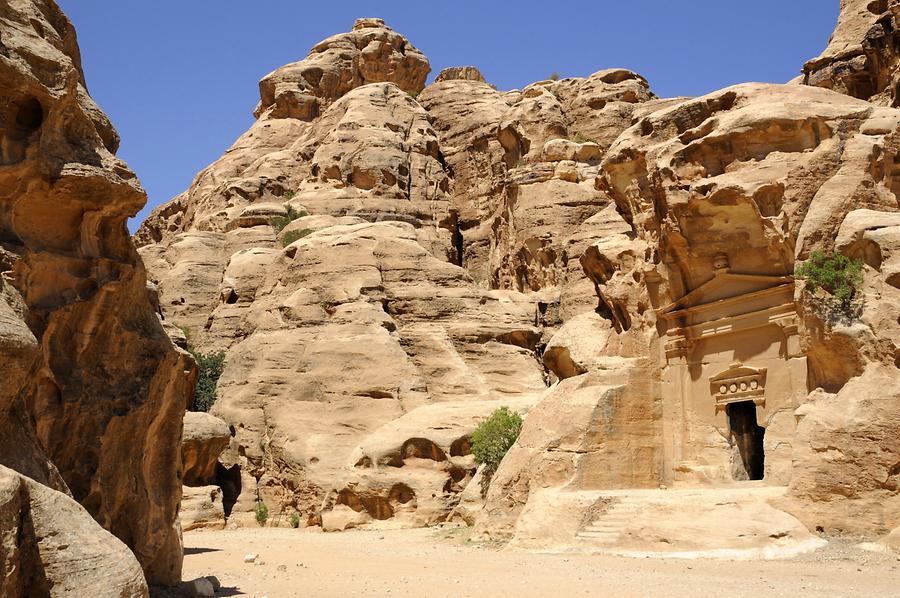 Here the special architecture can already be observed that seems to melt into the surrounding nature. The facades for temples and graves were carved directly from the rock in lengthy work. This procedure required great technical skills. At first the rock walls had to be chosen carefully and check by listening to make sure the stone was free of cracks. Then the surface was polished and step by step the complex architectonical forms were carved out. Mistakes could not be afforded, since the monuments were part of one conjoined rock structure, which hardly allowed for the mending of mistakes.
Schon hier zeigt sich die außergewöhnliche Architektur der Nabatäer, die mit der umliegenden Natur gleichsam zu verschmelzen scheint. Die Fassaden für Tempel und Gräber wurden in langwieriger Arbeit direkt aus dem Sandstein herausgemeißelt. Diese Prozedur setzte großes technisches Können voraus. Zuerst musste man die Felswände sorgfältig auswählen und abhorchen, um sicherzugehen, dass das Gestein frei von Rissen war. Dann wurde die Oberfläche poliert und Schritt für Schritt die komplizierten architektonischen Formen herausgearbeitet. Missgeschicke konnte man sich nicht erlauben, denn die Monumente bilden eine einzige zusammenhängende Felsstruktur, die ein Ausbessern von Fehlern kaum möglich macht.