Sand Dunes near Hundar; Two-Hamped Camels#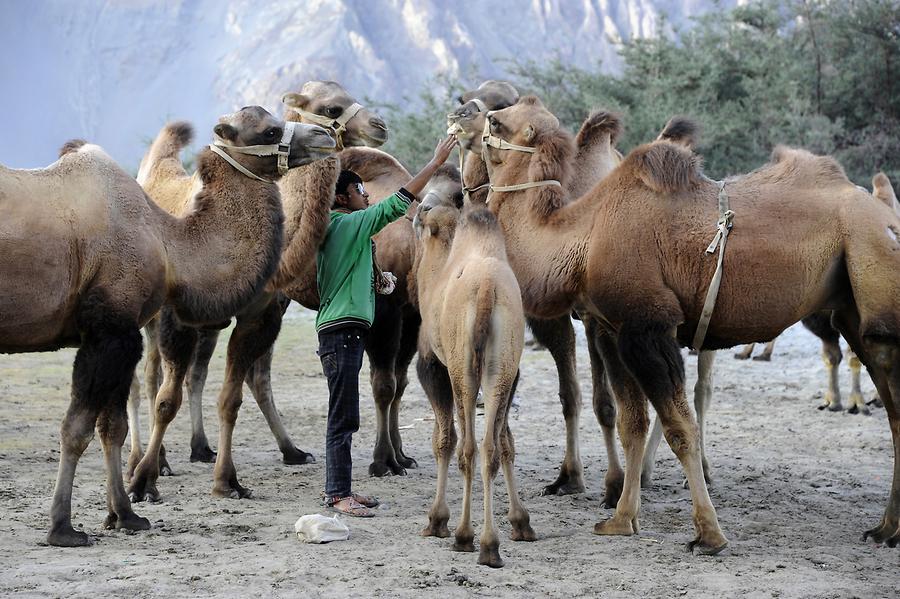 Von den zweihöckrigen Trampeltieren leben noch etwa 100 im Nubratal. Es handelt sich um die verwilderten Exemplare einstiger Karawanen, die mit der Schließung der Grenze zu China arbeitslos wurden und hier zurückblieben. Das vor 5000 Jahren in Zentralasien domestizierte Trampeltier bringt es immerhin auf ein Gewicht von einer halben Tonne. Seine zwei Höcker dienen als Fettspeicher. Die Körpertemperatur des erstaunlichen Kamels schwankt um bis zu 8 Grad, was seiner extremen Anpassungsfähigkeit zugute kommt. Außentemperaturen zwischen minus 40 und plus 40 Grad machen ihm nichts aus. Es ernährt sich von Pflanzen und verschmäht dabei dank seines 4-Kammern-Magens weder stacheliges noch salziges Grünzeug. In wenigen Minuten trinkt das Trampeltier über 100 Liter und speichert das Wasser im Zellgewebe, sodass es bis zu einer Woche ohne weitere Flüssigkeitsaufnahme durchhält. Einige der störrischen Wüstenschiffe haben jüngst wieder Arbeit gefunden. Sie schaukeln Touristen durch die beeindruckende Sanddünenlandschaft.
About 100 of the two-humped camels still live in the Nubra Valley. These are the overgrown specimens of former caravans who became unemployed when the border to China closed down and remained there. The 5000 years ago in Central Asia domesticated camel brings it to a weight of half a ton after all. His two humps serve as fat stores. The body temperature of the amazing camel varies by up to 8 degrees, which benefits its extreme adaptability. Outside temperatures between minus 40 and plus 40 degrees do not bother him. It feeds on plants and spurns neither prickly nor salty ones thanks to its 4-chamber stomach. In a matter of minutes, the bactrian will drink over 100 liters and store the water in the cell tissue, so it can last up to a week without further fluid intake. Some of the stubborn camels have recently found work again. They carry tourists through the impressive sand dune landscape.