Diskit Monastery - Dukhang#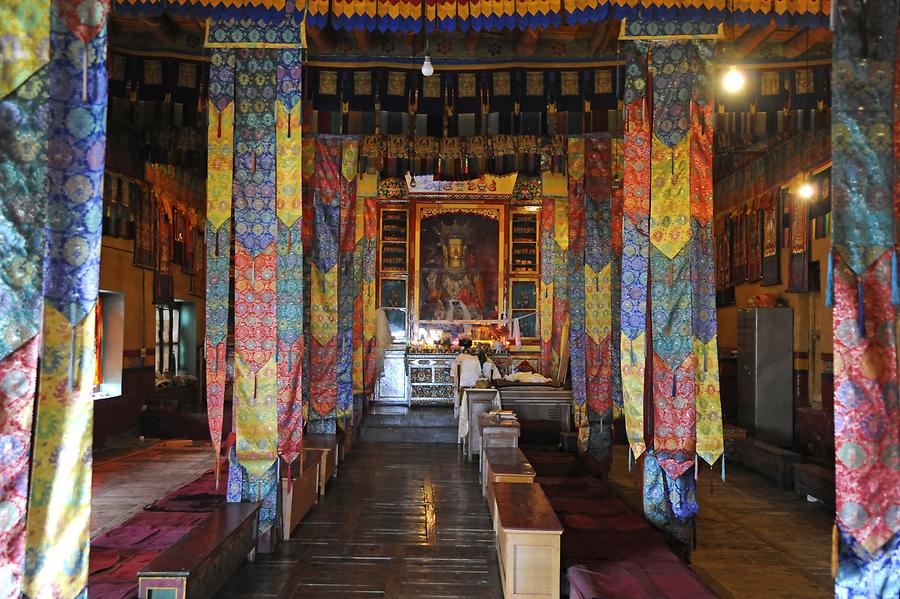 In den Tempelräumen dienen die einzelnen Plastiken als Meditationshilfen. Auch wenn man im Buddhismus immer wieder von Göttern oder gottgleichen Wesen hört, darf man sich diese nicht nach westlichem Verständnis vorstellen. Buddhistische Götter sind weder allmächtig noch unsterblich. Sie können sogar als Mensch oder Tier wiedergeboren werden. Wenn Pilger solche Wesen anbeten, suchen sie nicht Hilfe bei einem Gott, sondern möchten damit in sich selbst eine positive Geisteshaltung aktivieren. Beten im buddhistischen Sinne bedeutet, Wünsche auszusprechen und diese anderen Wesen zu widmen wie beispielsweise: 'Mögen alle Wesen frei von Kummer sein'. Es geht darum, in sich selbst eine ruhige und friedliche Grundstimmung zu erzeugen, um sie dann auf andere Menschen und Wesen zu übertragen.
In the temple rooms, the individual sculptures serve as meditation aids. Even if one hears of gods or godlike beings in Buddhism again and again, one must not imagine these to Western understanding. Buddhist gods are neither almighty nor immortal. You can even be reborn as a human or animal. When pilgrims worship such beings, they do not seek help from a god, but seek to activate a positive attitude of mind within themselves. Praying in the Buddhist sense means expressing desires and dedicating them to other beings, such as: 'May all beings be free from grief'. It is about creating a calm and peaceful mood in oneself, in order to transfer it to other people and beings.