Jokhang Gompa Temple - Pilgrims#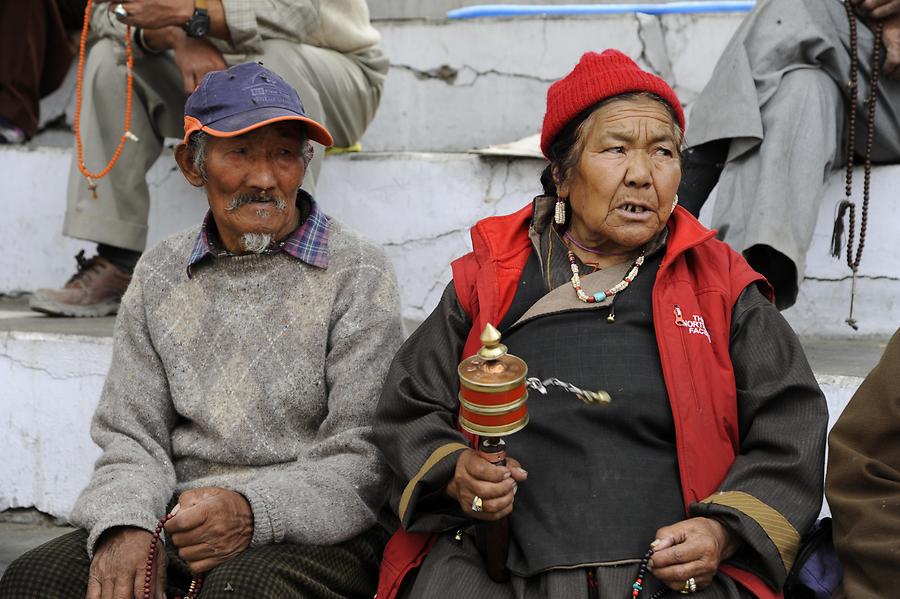 Auch außerhalb der Versammlungshalle lauschen die Gläubigen den stundenlangen Rezitationen des Ehrengastes. Unablässig werden die Gebetsmühlen gedreht und damit die segensbringenden Verse verstärkt, die sich aufgedruckt auf kleinen Papierrollen im Inneren des Zylinders befinden. Sie sollen die heiligen Mantras in die Welt hinaustragen, um so das Leid aller Menschen zu lindern. Damit sammelt der Gläubige gutes Karma für sein eigenes Leben und darf so auf eine höhere Wiedergeburt hoffen. Ein ebenso wichtiges Utensil bildet der Gebetskranz, der aus 108 Perlen besteht. Mit ihm zählen die Pilger die Mantras, die sie in endloser Abfolge vor sich hinmurmeln.
Even outside the assembly hall, the faithful listen to the hours-long recitations of the guest of honor. The prayer wheels are turned incessantly, reinforcing the benevolent verses printed on small rolls of paper inside the cylinder. They are to carry the holy mantras out into the world to alleviate the suffering of all people. Thus, the believer collects good karma for his own life and may thus hope for a higher rebirth. An equally important utensil is the Prayer Wreath, which consists of 108 pearls. With him, the pilgrims count the mantras, which they murmur in endless succession.