Tea Pickers near Palampur#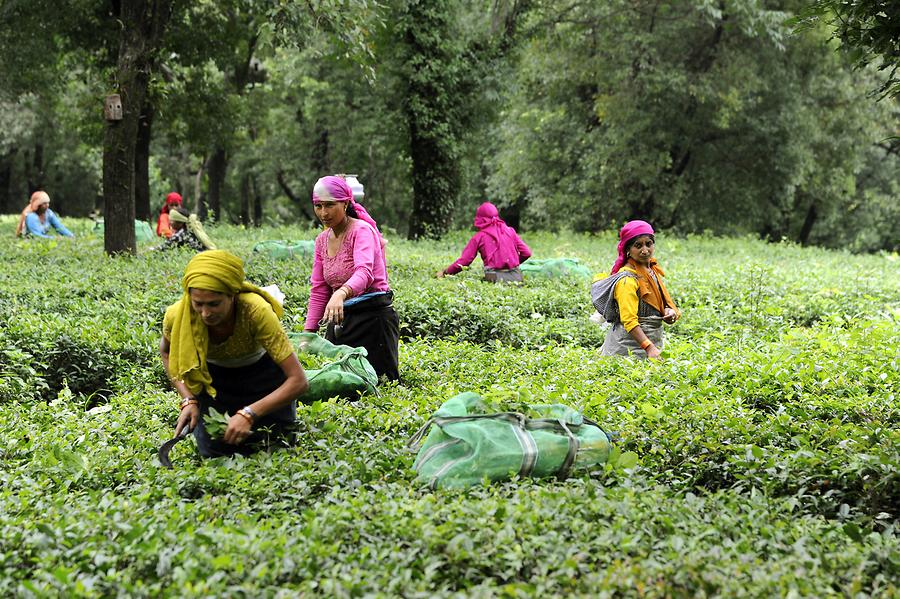 In der Gegend um Bajinath
Bajinath, India
wird Tee angebaut. Wildwachsende Teesträucher erreichen eine stattliche Höhe von bis zu 20 m, werden jedoch zur kommerziellen Nutzung auf eine Höhe von rund einem Meter beschnitten. Teepflückerinnen leisten Schwerstarbeit. Sie zupfen nur zwei Blätter und die Knospe vom Strauch. Bis zu 25 kg schaffen sie am Tag. Den typisch indischen Masala-Tee genießt man mit Milch und extra viel Zucker. Seine besondere Note verdankt er beigefügten Gewürzen wie Ingwer und Kardamon.
In the area around Bajinath
Bajinath, India
tea is grown. Wild-growing tea shrubs reach a stately height of up to 20 m, but are pruned for commercial use to a height of about one meter. Tea pickers do hard labor. They only pluck two leaves and the bud from the shrub. They can handle up to 25 kg a day. The typical Indian Masala tea is enjoyed with milk and extra sugar. It owes its special touch to attached spices such as ginger and cardamom.