Road to Mandi - Roadwork#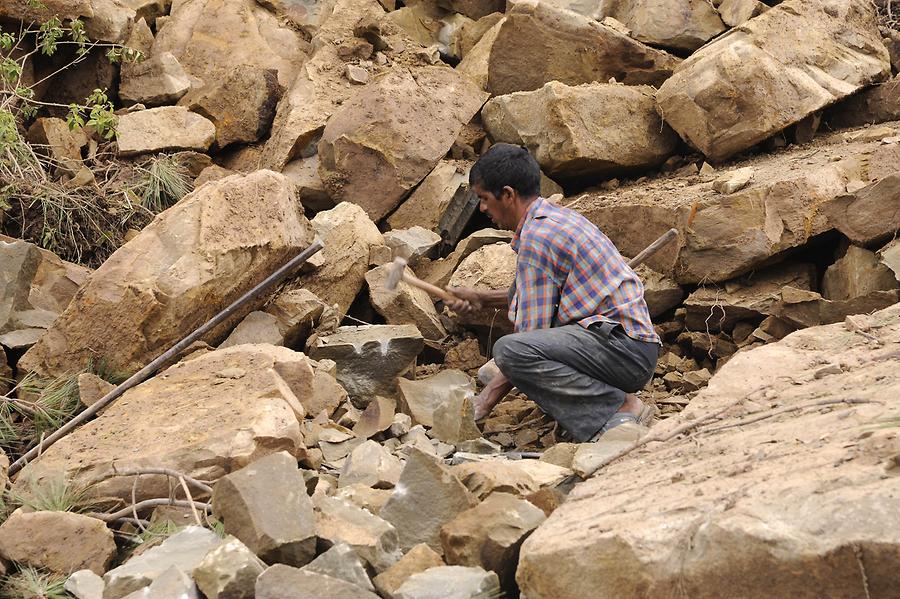 Straßenbau in Indien: Das war und ist bis heute in erster Linie Handarbeit. Mühsam werden die Felsen zu kleinen Steinen und grobkörnigem Schotter zerschlagen – wenig effizient, aber es schafft Arbeitsplätze. Die meisten Menschen, über 60 %, verdienen ihren Lebensunterhalt jedoch in der Landwirtschaft, vornehmlich mit dem Anbau von Reis, Weizen, Zuckerrohr, Tee und Baumwolle. Die Höfe sind klein, mit durchschnittlich weniger als 2 ha oftmals zu klein, um eine Familie zu ernähren. Zweit- und Drittjobs sind daher gefragt.
Road construction in India: That was and still is primarily manual work. The rocks are laboriously crushed to small stones and coarse gravel - not very efficient, but it creates jobs. However, most people, over 60%, earn their living in agriculture, mainly with the cultivation of rice, wheat, sugarcane, tea and cotton. The farms are small, often less than 2 ha on average, to feed a family. Second and third jobs are therefore required.