McLeod Ganj - Namgyal Monastery; Pilgrims#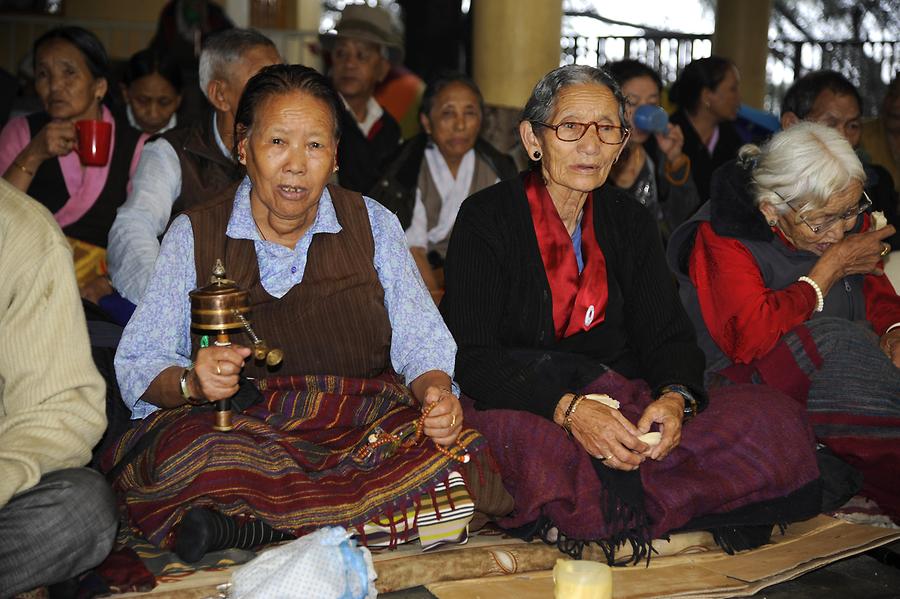 Außerhalb der Versammlungshalle nehmen die Gläubigen an den mönchischen Zeremonien teil.Sie drehen ihre Gebetsmühlen und verstärken damit die segensbringenden Verse, die sich aufgedruckt auf kleinen Papierrollen im Inneren des Zylinders befinden. Ein ebenso wichtiges Utensil bildet der Gebetskranz, der aus 108 Perlen besteht. Mit ihm zählen die Buddhisten die Mantras, die sie in endloser Abfolge vor sich hinmurmeln.
Outside the assembly hall, the faithful take part in the monastic ceremonies. They turn their prayer wheels, reinforcing the benevolent verses printed on small rolls of paper inside the cylinder. An equally important utensil is the Prayer Wreath, which consists of 108 pearls. With him, the Buddhists count the mantras, which they murmur in endless succession.