The Religious Scripture 'Guru Granth Sahib'#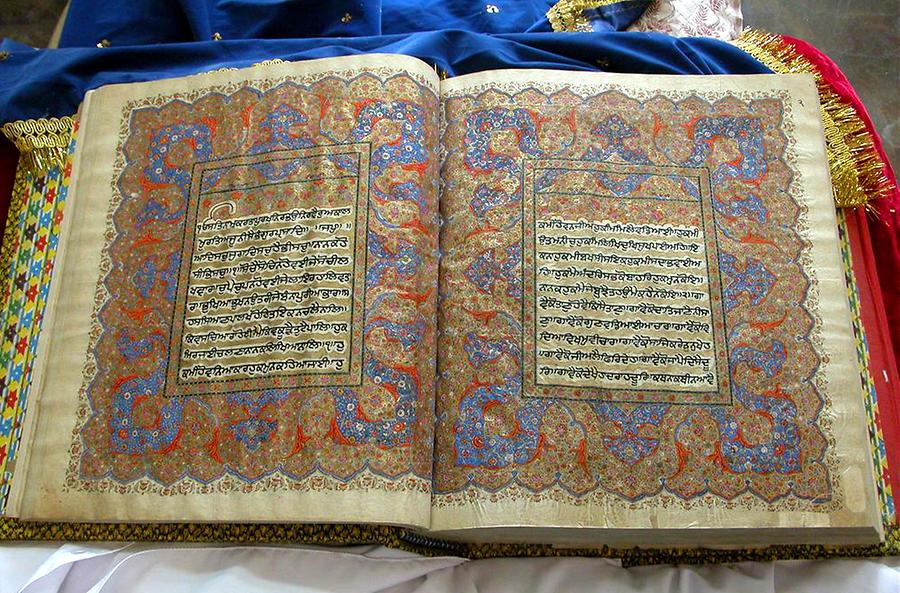 Der letzte der 10 heiligen Männer, Govind Singh, starb 1708. Als seinen Nachfolger bestimmte er das heilige Buch 'Guru Granth Sahib'. Es enthält über 3000 göttliche Lobeshymnen, die in den Tempeln fortwährend rezitiert werden. Geschrieben wurde es ursprünglich in einer eigens von den Gurus entwickelten Schrift, die mehrere Schriftsysteme und Versformen vereint und so den übergreifenden Ansatz des Sikhismus demonstriert. Als Aufbewahrungsort für diese Sikh-Bibel ließ der vierte Guru 1577 den Goldenen Tempel als zentrales Heiligtum der Glaubensgemeinschaft errichten. Man darf ihn nur barfuß durch ein reinigendes Wasserbecken betreten.
The last of the 10 holy men, Govind Singh, died in 1708. As his successor, he chose the sacred book 'Guru Granth Sahib'. It contains over 3000 divine hymns of praise, which are constantly recited in the temples. It was originally written in a script developed specially by the Gurus, which unites several writing systems and verses and thus demonstrates the overarching approach of Sikhism. As a repository for this Sikh Bible, the fourth guru had the Golden Temple built in 1577 as the central sanctuary of the denomination. One may only enter it barefoot through a purifying pool of water.