Golden Temple - Rest Area#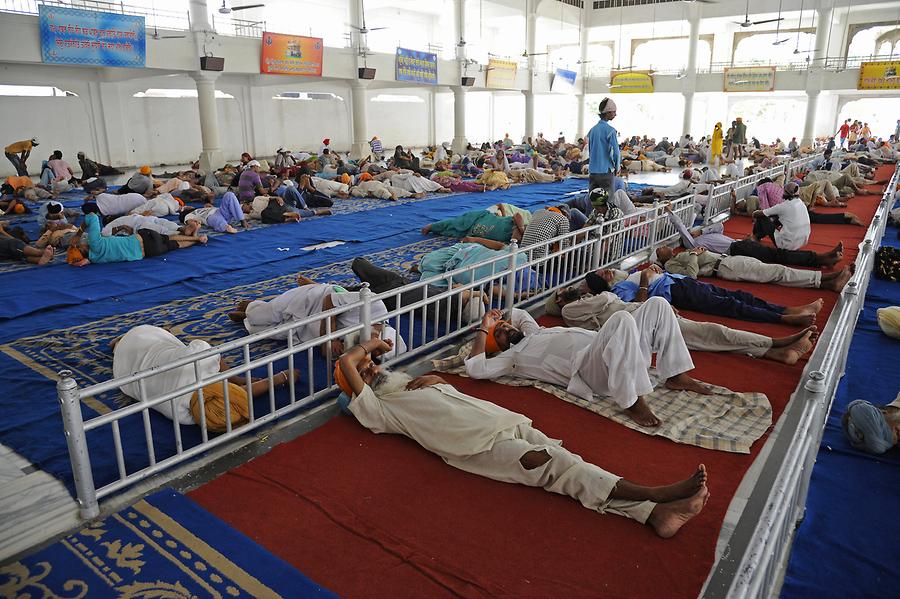 Alle Sikh-Tempel verfügen über Ruhezonen und Gemeinschaftsküchen, die jedem Besucher kostenlos zur Verfügung stehen. Neben dem indischen Fladenbrot chapati werden in riesigen holzbefeuerten Kesseln Dhal, ein Bohnen- oder Linsengericht und Raita, eine Art indisches Tsatsiki auf Yoghurtbasis zubereitet. Immerhin verschwinden alltäglich rund um die Uhr etwa 20.000 Mahlzeiten in den Mägen der hungrigen Pilger.
All Sikh temples have rest areas and communal kitchens, which are available to every visitor for free. In addition to the Indian flatbread chapati, Dhal, a bean or lentil dish and Raita, a type of Indian yoghurt-based tsatsiki, are prepared in huge wood-fired boilers. After all, every day around 20,000 meals disappear into the stomachs of hungry pilgrims.