King Vakhtang I Gorgasali and Metekhi Church#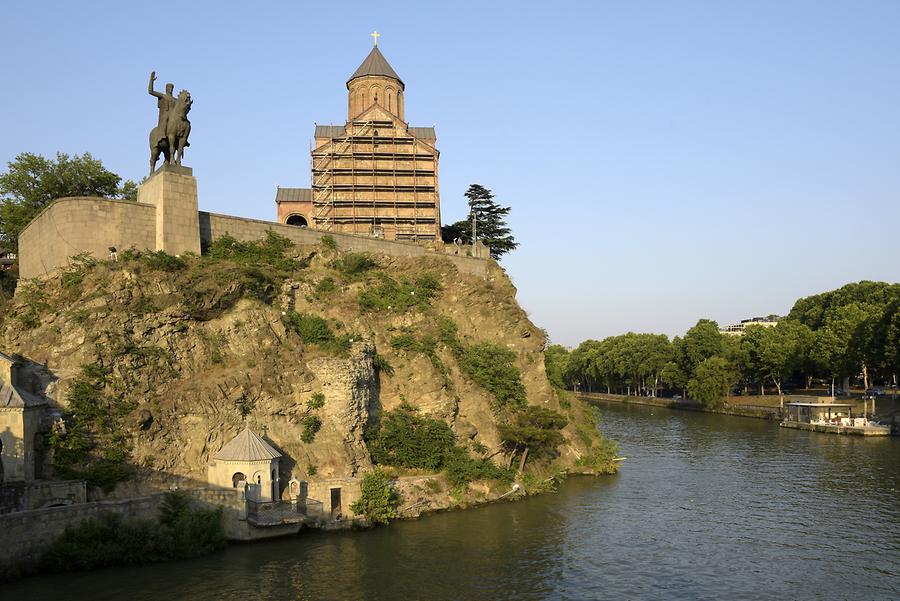 Eine erhöhte Aussichtsposition genießt König Wachtang Gorgassali. Hoch zu Ross blickt der Gründer von Tiflis über seine Stadt. Warum der Herrscher im 5. Jahrhundert genau hier seine Residenz errichtete, weiß die Legende. Wachtang war damals auf der Jagd in den umliegenden Wäldern. Sein Pfeil traf einen Fasan, der daraufhin in eine heiße Quelle stürzte. Der König eilte herbei, doch umsonst, denn das Wasser hatte die Wunde des Vogels augenblicklich geheilt und der Fasan suchte das Weite.
An elevated viewing position is enjoyed by King Wachtang Gorgassali. High on horseback, the founder of Tbilisi looks over his city. This is why the ruler built his residence right there, according to the legend: Wachtang was hunting in the surrounding forests. His arrow met a pheasant which then plunged into a hot spring. The king hurried over, but in vain, for the water had instantly healed the wound of the bird, and the pheasant flew away.