Abanotubani - Sulphuric Baths#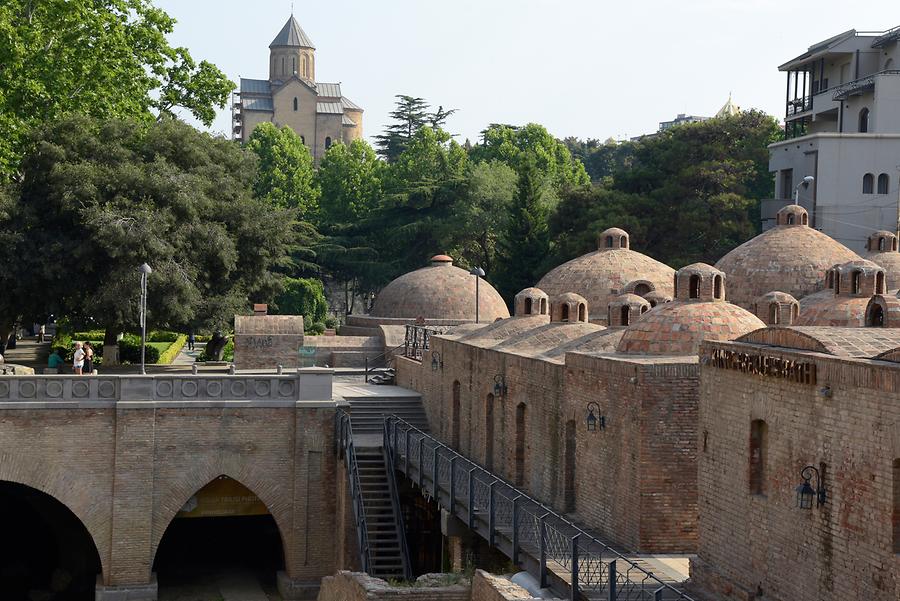 Noch heute ist Tiflis berühmt für seine schwefelhaltigen Thermalquellen. Bis zu 45 Grad warmes Wasser sprudelt aus unterirdischen Reservoirs. Es spült angeblich alle Wehwehchen fort. Schon Leo Tolstoi und Alexander Pushkin schwärmten in höchsten Tönen von den Tifliser Thermen. Man pflegte hier nicht nur seinen Körper, sondern besprach Geschäfte und tauschte Neuigkeiten aus. Der Dienstag und Mittwoch war den Frauen vorbehalten. An diesen Tagen hatten die Männer bis auf Schussweite nichts in der Nähe der Bäder zu suchen. Manche Damen machten diesen Umstand zu einem profitablen Geschäftsmodell. Als 'Chanumas', als 'Kupplerinnen', mischten sie sich im Auftrag potentieller Bräutigame unter die nackten Damen, um die schönsten Körper ausfindig zu machen.
Tbilisi is still famous for its sulphurous thermal springs. Up to 45 degrees warm water bubbles from underground reservoirs. It allegedly flushes away all the woes. Already Leo Tolstoy and Alexander Pushkin raved of the Tbilisi spas. Not only was ones body cared for here, but business was discussed and news exchanged. Tuesday and Wednesday were reserved for women. On these days, men are not allwoed within shooting range near the baths. Some ladies made this a profitable business model. As 'chanumas', as 'matchmakers', they mingled with the naked ladies on behalf of potential grooms to find the most beautiful bodies.