1907 Tiflis Bank Robbery#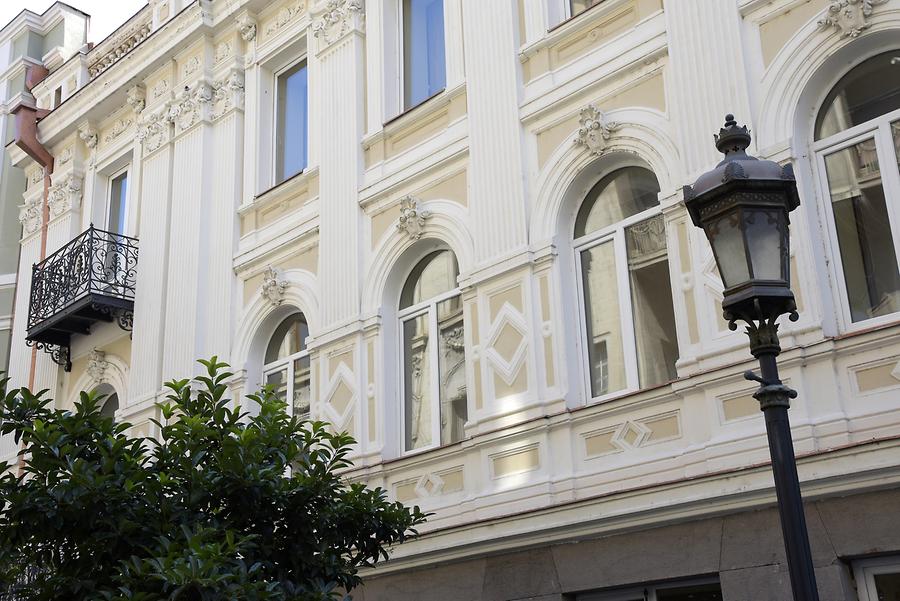 Vom Freiheitsplatz zweigt eine schmale Gasse ab, in der einst die Staatsbank ihren Sitz hatte. Was hier am 13. Juni 1907 passierte, schrieb Kriminalgeschichte. Gegen 10 Uhr 30 trafen zwei Kutschen mit Säcken voller Geld ein, als eine ohrenbetäubende Detonation für Panik sorgte. Es kam zu einem Schusswechsel. Einer der Banditen ergriff ein Kutschpferd, warf die Geldsäcke in einen Wagen und hastete davon. Als sich die alarmierten Soldaten näherten, rief ihnen der Dieb zu, er habe das Geld bereits in Sicherheit gebracht. Der Bluff gelang. Die Bilanz war jedoch erschreckend: 40 Menschen verloren beim Überfall ihr Leben, während die Täter mit einer Beute von 1 Million Rubel entkamen. Nach heutigem Wert entspricht das etwa 30 Millionen Euro. Der Drahtzieher hinter diesem spektakulären Raub war ein waschechter Georgier. Sein Name: Josef Stalin. Er finanzierte damit seinen Kampf gegen die russischen Zaren.
From Freedom Square a narrow lane branches off, in which the state bank had its seat at some stage. What happened here on June 13, 1907 made criminal history. At 10:30 am, two carriages arrived carrying bags of money when a deafening detonation caused panic. It came to a gunfight. One of the bandits grabbed a carriage horse, threw the money sacks into a chariot and hurried away. As the alarmed soldiers approached, the thief shouted that he had already taken the money to safety. The bluff succeeded. However, the results were frightening: 40 people lost their lives in the robbery, while the perpetrators escaped with a prey of 1 million rubles. According to today's value this amounts to about 30 million Euros. The mastermind behind this spectacular robbery was a genuine Georgian. His name: Josef Stalin. He financed his fight against the Russian tsars.