Ushguli Community - Murqmeli#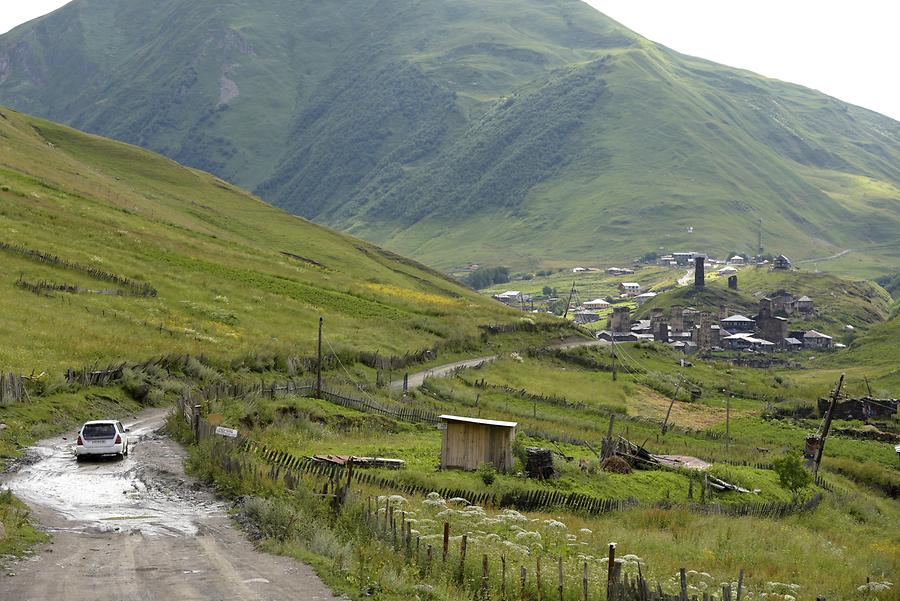 Nur 42 km trennen Ushguli
Ushguli, Georgia
von Mestia
Mestia, Georgia
, doch sollte man mit einer Fahrzeit von mindestens 3 Stunden rechnen. Dann aber hat man das wohl schönste Dorf des Kaukasus erreicht. Es besteht aus vier Ortsteilen. Einer von ihnen fiel 1985 einer riesigen Lawine zum Opfer, die viele Menschenleben forderte. Alle Häuser wurden zerstört, nur die Wehrtürme trotzten den Schneemassen. Etwa 300 Menschen leben hier auf 2200 m Seehöhe im Schatten der imposanten Fünftausender des Schchara-Massivs. Jeden Sommer kommen unzählige Besucher dazu. Neben der Landwirtschaft wurde der Tourismus zur wichtigsten Einnahmequelle. Fast jedes Gehöft bietet einfache, aber saubere Gästezimmer an.
Only 42 km separate Ushguli
Ushguli, Georgia
from Mestia
Mestia, Georgia
, but you should expect a travel time of at least 3 hours. But after that trip you have reached the most beautiful village of the Caucasus. It consists of four districts. One of them was a victim of a huge avalanche in 1985, claiming many lives. All houses were destroyed, only the defense towers braved the snow. About 300 people live here at 2,200 m above sea level in the shadow of the imposing five-thousanders of the Schchara massif. Every summer countless visitors come to it. In addition to agriculture, tourism became the main source of income. Almost every farmstead offers simple but clean guest rooms.