David Gareja Monastery Complex#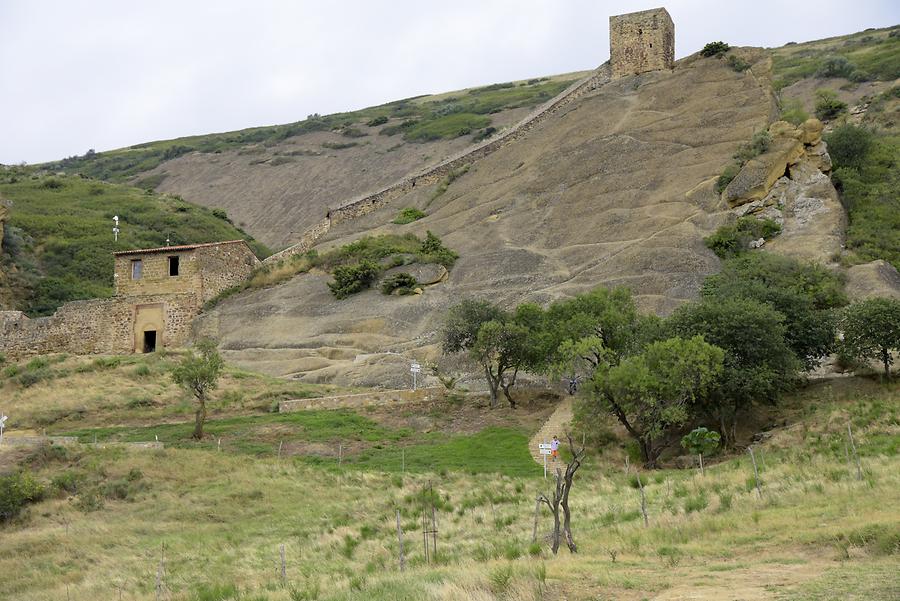 Im Südosten von Tiflis liegt ein verstecktes Kloster namens Davit Gareja
41.5053065,45.3689538
direkt an der aserbaidschanischen Grenze. Es wird nur selten besucht, denn die Anreise über schmale Feldwege ist mühsam. Doch die kleine Anlage und vor allem die umliegende wüstenhafte Landschaft gehören zum Ungewöhnlichsten, was Georgien zu bieten hat. Der Klosterkomplex, gegründet vom syrischen Einsiedler Davit im 6. Jahrhundert, scheint förmlich aus dem Boden zu wachsen. Von außen war er kaum zu entdecken. Bei Davit Gareja handelte es sich um den östlichsten Außenposten des frühen Christentums, nicht weit entfernt von den islamischen Heeren der Perser und Araber. Seinen Untergang erlebte Davit Gareja in der Osternacht 1616. Die Mönche feierten gerade die Auferstehung Christi mit einem langen Fackelzug, der die persischen Eroberer anzog wie die Motten das Licht. Die Mönche waren gewarnt, zogen jedoch in der heiligsten aller Nächte den Tod durch das Schwert einer Flucht vor. Man berichtet, der Perser hätte alle 3000 Mönche ohne Ausnahme niedergemetzelt. Das Kloster verfiel. In den 1980er-Jahren erfolgten umfangreiche Restaurierungsarbeiten. Heute leben wieder einige Mönche in dieser scheinbar doch nicht so gottverlassenen Gegend.
In the southeast of Tbilisi lies a hidden monastery called Davit Garejaright
41.5053065,45.3689538
on the azerbaijanian border. It is rarely visited, because the journey over narrow dirt roads is exhausting. But the small resort and especially the surrounding desert landscape are among the most unusual things Georgia has to offer. The monastery complex, founded by the Syrian hermit Davit in the 6th century, seems to be growing out of the ground. He was barely visible from the outside. Davit Gareja was the easternmost outpost of early Christianity, not far from the Islamic armies of the Persians and Arabs. Davit Gareja saw his downfall on Easter night 1616. The monks were celebrating the resurrection of Christ with a long torchlight procession that attracted the Persian conquerors, as the moths are attracted by light. The monks were warned, but in the holiest of nights, they preferred to die by sword than to flee. It is reported that the Persian massacred all 3000 monks without exception. The monastery fell into decay. In the 1980s, extensive restoration work was carried out. Today some monks live again in this seemingly not so godforsaken area.