The Rice Terraces of Duoyishu#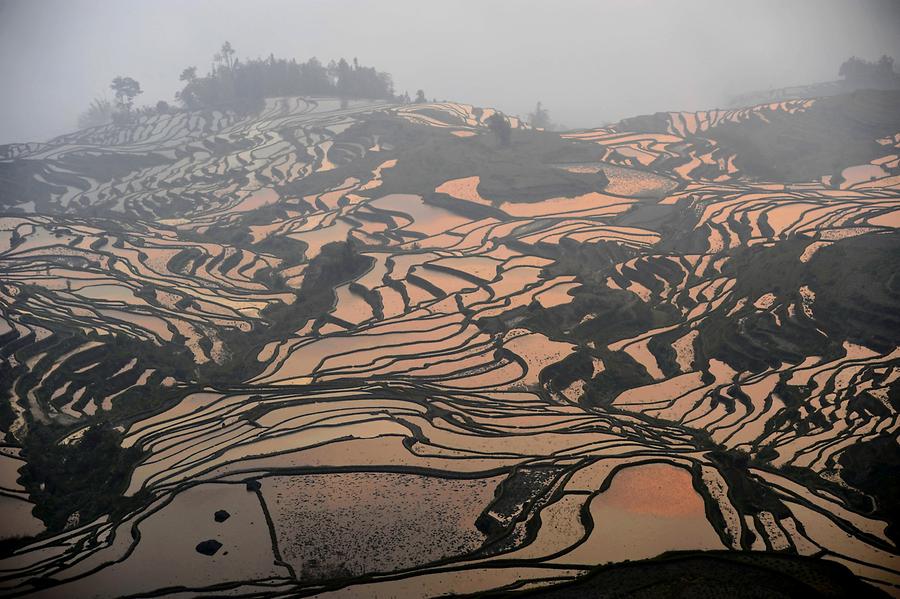 As traditional rice farmers, the Hani are specialized in terrace cultivation. But, however, what the scarcely 10,000 people have created in the Yuanyang area over the past 1300 years is a miracle and may be compared in its dimension with the building of the Great Wall or the Egyptian pyramids. Between 700 and 1900 metres above sea level, the Hani built by far the largest complex of rice terraces in the world, stretching over 200 km². The fields cling to the steep slopes in hundreds of steps, sometimes up to 3,000 of them on one hill. How so few people can build, maintain and manage such a scenic art work is difficult to imagine.
Als traditionelle Reisbauern sind die Hani Spezialisten im Terrassenfeldbau. Doch was die kaum 10.000 Menschen im Gebiet von Yuanyang in den letzten 1300 Jahren geschaffen haben, grenzt an ein Wunder und darf in seiner Dimension wohl mit dem Bau der Chinesischen Mauer oder der ägyptischen Pyramiden verglichen werden. Zwischen einer Seehöhe von 700 und 1900 m bauten die Hani den mit Abstand größten Reisterrassenkomplex weltweit, der sich über 200 km² erstreckt. Die Felder klammern sich in hunderten Stufen an die steilen Abhänge. An nur einem einzigen Hügel kleben bis zu 3000 Reisfelder. Kaum vorstellbar, wie so wenige Menschen ein derartiges Landschaftskunstwerk bauen, erhalten und bewirtschaften können.