Rice Terraces near Qingkou - Water Buffalo#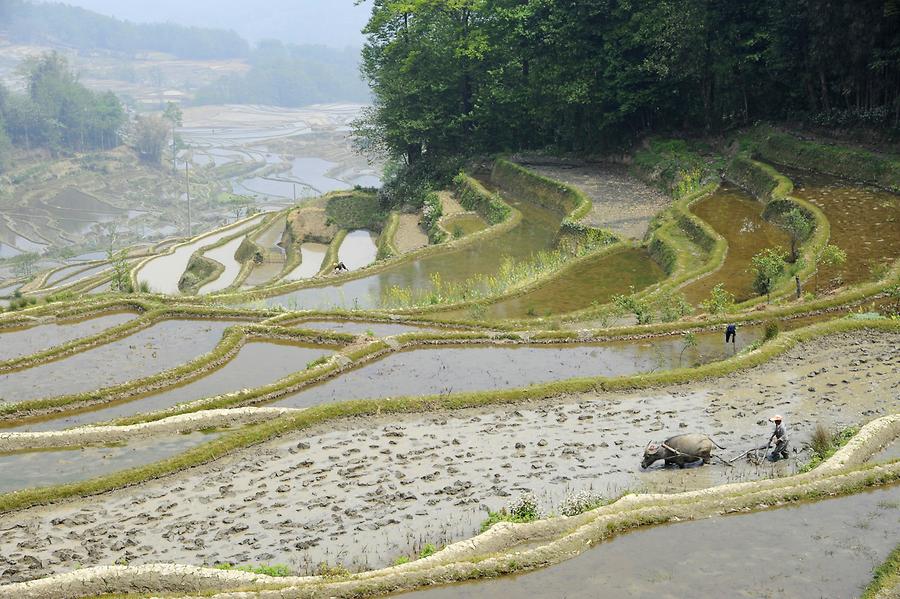 For the cultivation of rice, irrigation is of crucial importance because up to 5000 litres of running water are per kilogram. Here, the skill of the constructors of the terraces is manifested. An elaborate network of canals, pipes and ditches crosses the mountains and directs the water onto the terraces built with highest precision. A technical masterpiece, because on the one hand you have to make sure that all fields are evenly irrigated. On the other hand, the precious water must neither be directed to the terraces too fast or too slow to prevent erosion or slagging of the soil. Imagine that with this refined system thousands of interconnected fields, which are continually stretching over more than 1000 metres in height, are managed precisely and sustainably - and that since the 7th century.
Beim Reisanbau kommt der Bewässerung die entscheidende Bedeutung zu, denn pro Kilogramm Reis werden bis zu 5000 Liter fließendes Wasser benötigt. Hier offenbart sich das Geschick der Terrassenbauer. Ein ausgeklügeltes Netz von Kanälen, Rohren und Gräben durchzieht die Berge und leitet das Wasser auf die mit höchster Präzision errichteten Terrassen. Eine ingenieurtechnische Meisterleistung, denn einerseits muss man sicherstellen, dass alle Felder gleichmäßig bewässert sind. Andererseits darf das kostbare Nass weder mit zu hoher noch zu niedriger Geschwindigkeit auf die Terrassen geleitet werden, um eine Erosion oder Verschlackung des Bodens zu verhindern. Man stelle sich vor, dass mit diesem raffinierten System tausende miteinander verbundene Felder, die sich kontinuierlich über mehr als 1000 Höhenmeter erstrecken, präzise und nachhaltig bewirtschaftet werden – und das schon seit dem 7. Jahrhundert.