Menghan - Dai Temple#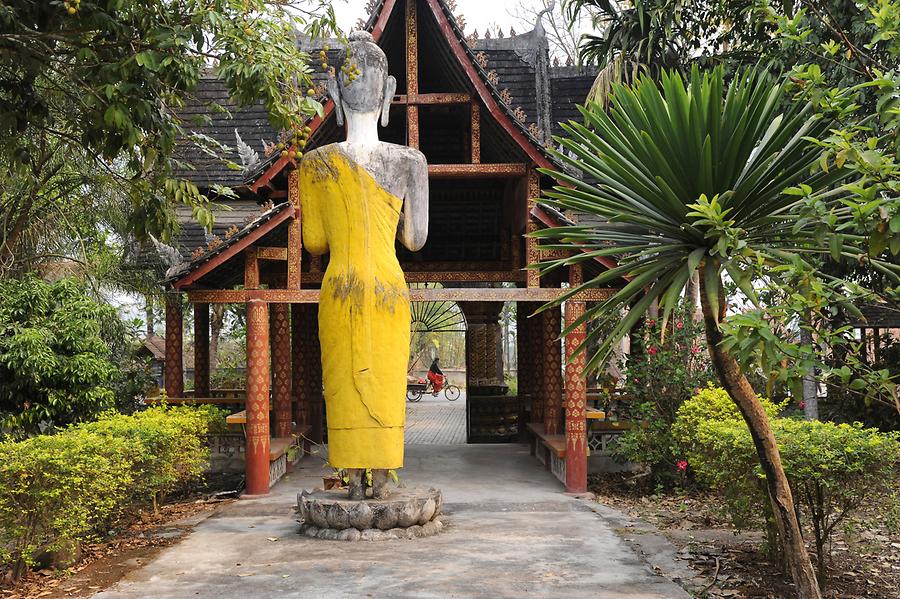 The region around Ganlanba is home to the Dai. Here, paid by the government, they are allowed to live their more or less traditional life, but of course not without receiving. The classical temple complexes and several native villages were converted into a Dai minority park, fenced in and with a steep admission fee. Although this concept meets exactly the taste of the Chinese tourists and also guarantees many Dai a life of ease, the enthusiasm for this zoo-like facility is limited among Western visitors.
Rund um Ganlanba sind die Dai zuhause. Sie dürfen hier – von der Regierung bezahlt - ein mehr oder weniger traditionelles Leben führen – selbstverständlich nicht ohne Gegenleistung. Die klassischen Tempelanlagen und mehrere ursprüngliche Dörfer wurden zu einem Dai-Minoritätenpark umfunktioniert, mit einem Zaun umgeben und einem saftigen Eintritt belegt. Obwohl dieses Konzept genau den Geschmack der chinesischen Touristen trifft und damit auch vielen Dai ein sorgloses Einkommen garantiert, hält sich die Begeisterung für diese zooartige Einrichtung bei westlichen Besuchern in Grenzen.