Green Lake Park - Tai Chi#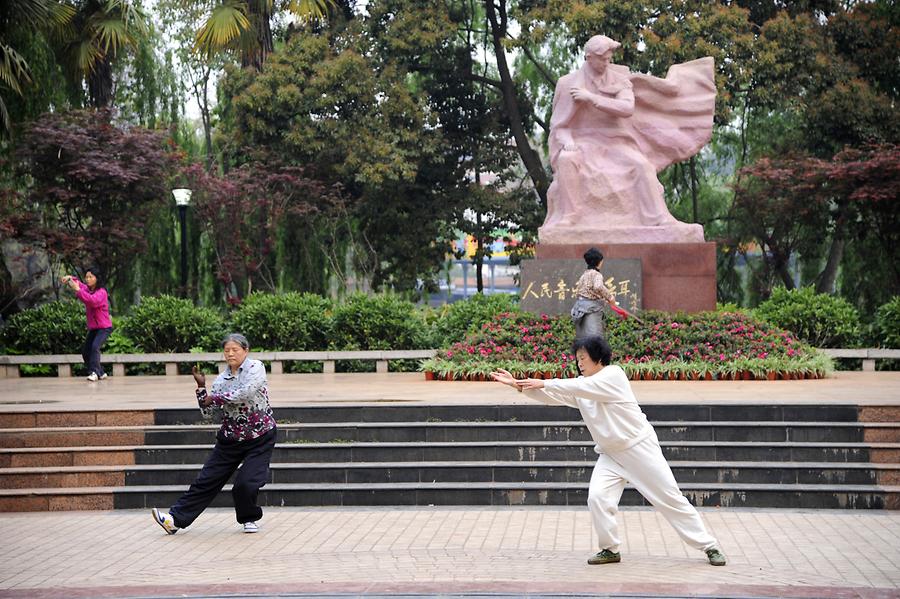 Early in the morning, elderly people attend to their meditative t'ai-chi exercises in the quiet and peaceful Green Lake Park. The main focus is on agility, mental concentration and conscious breathing. With a minimum of effort, the soft and slow-flowing movements are supposed to meld mind and body into a unity to let Chi, the vital energy, flow freely. In fact, it can be proved that frequent t'ai-chi exercises benefit body control and mobility, but also have positive effects on the heart, the immune system and the experience of pain.
See how it is done on youtube
Im ruhigen Jadesee-Park widmen sich ältere Menschen frühmorgens ihren meditativen Tai Chi-Übungen. Dabei geht es in erster Linie um Geschicklichkeit, geistige Konzentration und bewusste Atmung. Mit einem Minimum an Kraftaufwand sollen die weichen und langsam fließenden Bewegungen Geist und Körper zur Einheit verschmelzen, damit die Lebensenergie Chi frei fließen kann. Tatsächlich lässt sich nachweisen, dass häufige Tai Chi Übungen Körperkontrolle und Beweglichkeit fördern, aber auch positive Auswirkungen auf das Herz, das Immunsystem und das Schmerzempfinden haben.
Eine kurze Übungsanleitung sehen Sie auf youtube