Bamboo Temple - Lion#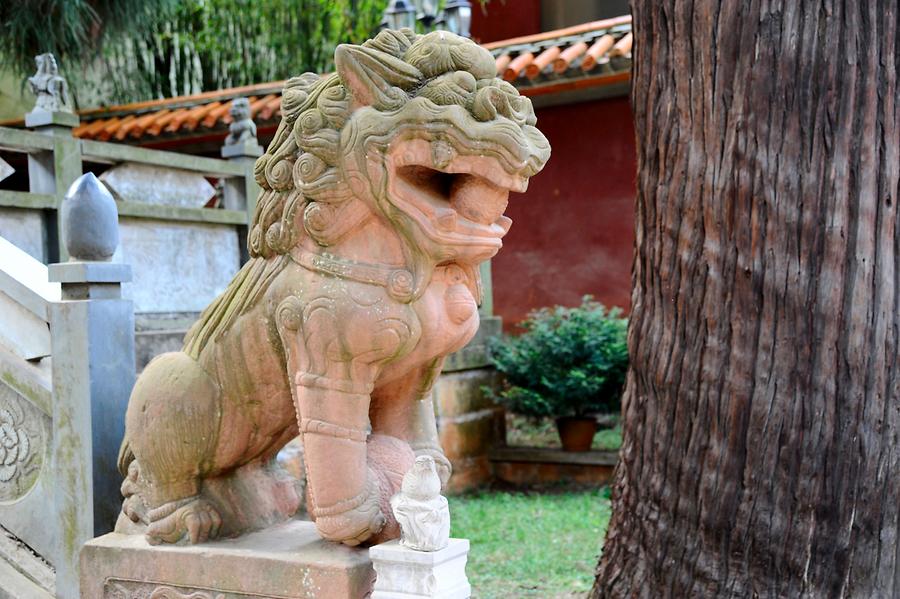 The lion, symbol of power and strength, guides into the Buddhist bamboo temple near Kunming, which is guarded by powerful protective deities. They open a window into the highly complex beliefs of the Chinese which, for Western visitors, are difficult to understand. Our concept of a unified, redeeming religion, of which all heathens have to be convinced, is completely alien to Chinese nature. They regard religion as a personal affair. How and in what form one becomes happy, every person has to find out himself. In the same way, the exclusiveness of the religions is also treated nonchalantly. Depending on current circumstances and needs, the emphasis is changed, new religious practices are included or old gods outcasted. Therefore, the three main belief systems, Buddhism, Taoism and Confucianism intermingle in everyday life so much that they can hardly be separated. 'Make three out of one' is a Chinese proverb. None of the Asian doctrines claims to be universal. Nor can they be called religions in the proper sense.
Der Löwe, Symbol für Macht und Kraft, weist den Weg zum buddhistischen Bambustempel nahe Kunming, der von mächtigen Schutzgottheiten bewacht wird. Sie öffnen ein Fenster in die höchst komplexen Glaubenswelten der Chinesen, die für westliche Besucher nur schwer zu durchschauen sind. Das Konzept einer einheitlichen, heilbringenden Religion, von der alle Ungläubigen zu überzeugen sind, ist den Chinesen völlig fremd. Sie betrachten Religion als persönliche Angelegenheit. Wie und in welcher Form man glücklich wird, muss jeder Mensch selbst herausfinden. Genauso ungezwungen steht es um die Exklusivität der Religionen. Je nach Lebenslage und momentanen Bedürfnissen verschieben sich die Schwerpunkte, werden neue religiöse Praktiken aufgenommen oder alte Götter verstoßen. Daher vermischen sich die drei großen Glaubenssysteme, Buddhismus, Taoismus und Konfuzianismus im Alltag so sehr, dass sie kaum mehr zu trennen sind. "Aus drei mach eins" lautet dazu ein chinesisches Sprichwort. Keine der asiatischen Lehren stellt einen Alleingültigkeitsanspruch. Man kann sie auch nicht als Religionen im eigentlichen Sinne bezeichnen.