Mudra Wheel Teaching#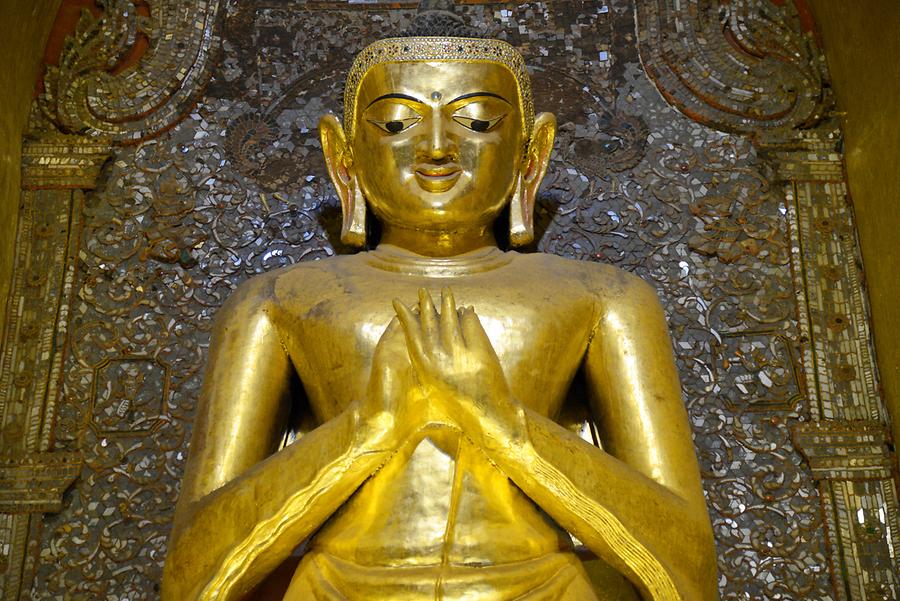 The 108 secret signs on a Buddha statue can be clearly read by every faithful. The meaning of statue can most obviously be identified by the gesture of the hand, the Mudras – 108 of which exist. The lying Buddha with open eyes – for example – portrays the enlightened one before entering nirvana. When thumb and fingers are united to form a circle it symbolizes the "Wheel of teachings" and requests a discussion of Buddha's findings. Very often Buddha is depicted in a meditation posture, symbolized by the left hand opened up upward. With the right hand he touches the ground to call upon the earth to witness his enlightened state.
Die 108 verborgenen Zeichen einer Buddha-Statue weiß jeder Gläubige genau zu lesen. Am augenfälligsten lässt sich die Bedeutung einer Figur an den Handgesten, den mudras, erkennen, von denen ebenfalls 108 existieren. Der liegende Buddha mit offenen Augen zeigt z.B. den Erleuchteten kurz vor dem Eingang ins Nirwana. Wenn sich Daumen und Zeigefinger zu einem Kreis vereinen, stellen sie das "Rad der Lehre" dar und fordern zur Diskussion über Buddhas Erkenntnisse auf. Besonders häufig zeigt sich Buddha in Meditationshaltung, symbolisiert durch die nach oben hin offene linke Hand. Mit der rechten Hand berührt er die Erde, um sie als Zeugin für seine Erleuchtung anzurufen.