Silk brocade embroidery#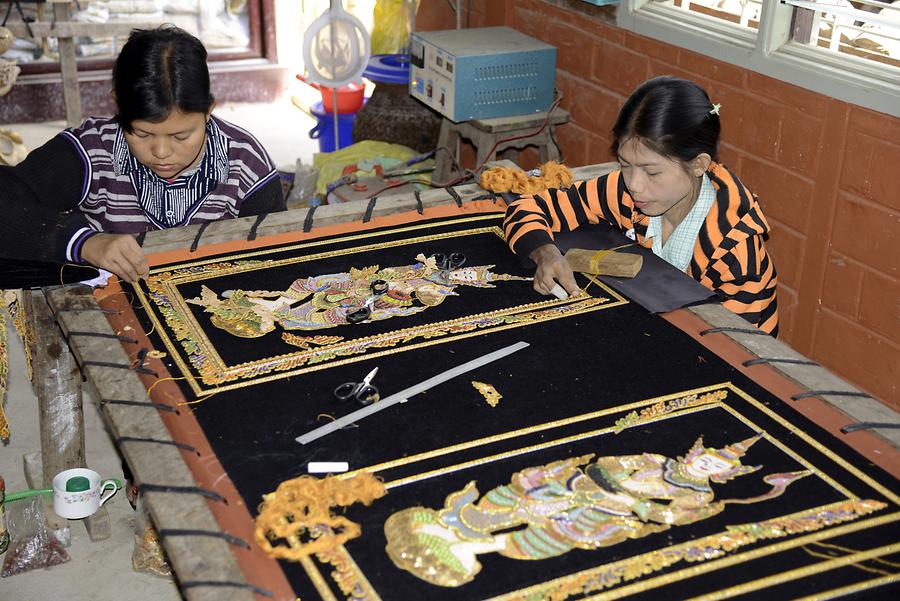 Incredible dexterity is needed for silk brocade embroidery. Ornamented with countless pearls and glass stones elaborate pictures and splendid robes for marionettes are created. These are brought to life every night. Marionette theatre has a long tradition in Burma and even used to be supervised by a specially appointed minister. The puppeteers show scenes from Buddha's earlier incarnations and tragedies from national history. Tangling at up to 50 threads over the stage, the puppets even used to offer some erotic thrills: man and woman together on a stage that was only allowed for puppets. The shows usually last the whole night until the early morning and are supported by a traditional orchestra. Several gongs, percussion and plugged instruments generate a non-tempered, repetitive music that in Western ears, if listened to too long, causes either fainting or a direct ascent to nirvana.
Außergewöhnliche Fingerfertigkeit erfordert die Seidenbrokat-Stickerei. Verziert mit unzähligen Perlen und Glassteinchen ergeben sich kunstvolle Bilder und prachtvolle Gewänder für Marionetten. Diese werden allabendlich zum Leben erweckt. Das Marionettentheater hat in Burma eine lange Tradition, einst sogar überwacht von einem eigens dafür eingesetzten Minister. Die Puppenspieler zeigen Geschichten aus den früheren Existenzen Buddhas und Dramen aus der nationalen Geschichte. An bis zu 50 Fäden tanzen die Puppen über die Bühne und bescherten dem Publikum einst sogar einen erotischen Kitzel: Mann und Frau gemeinsam auf einer Bühne, das war nur mit Puppen erlaubt. Die Vorstellungen dauern üblicherweise die ganze Nacht über bis in die frühen Morgenstunden, begleitet von einem traditionellen Orchester. Die zahlreichen Gongs, Schlag- und Zupfinstrumente generieren eine nicht temperierte, wiederholungsreiche Musik, die in westlichen Ohren auf längere Sicht entweder Ohnmacht oder den direkten Eingang ins Nirwana auslöst.