Approaching the White House#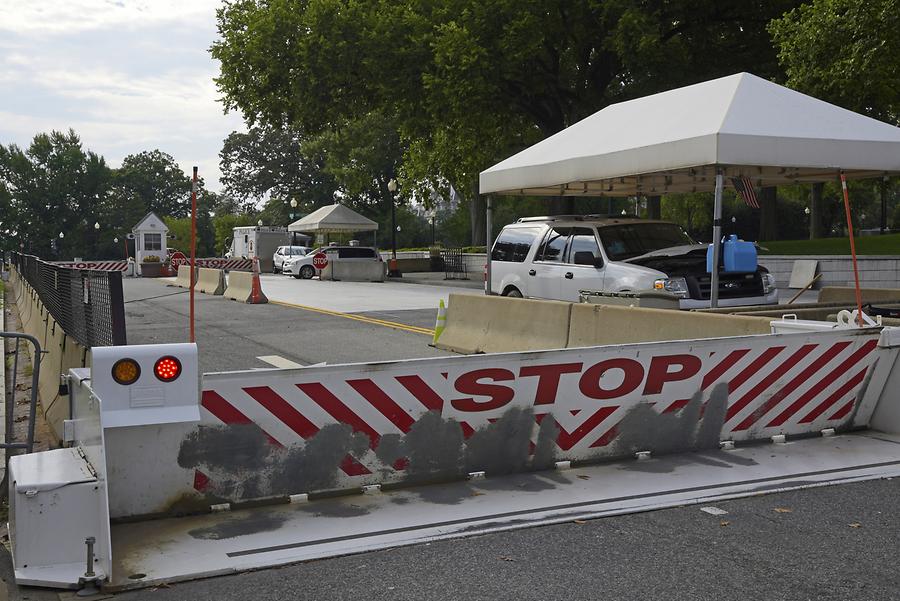 Die Polizeipräsenz verdichtet sich merkbar, je näher man dem Weißen Haus kommt. Warum der amerikanische Präsident als Staatsoberhaupt und gleichzeitig Regierungschef über außergewöhnliche Kompetenzen verfügt, liegt in der Geschichte begründet. Um die sehr unterschiedlichen Interessen der 13 Gründerstaaten, jene der stark industrialisierten Nordstaaten und jene der von Plantagenwirtschaft dominierten Südstaaten unter einen Nenner zu bringen, hielten die Gründerväter eine Zentralregierung mit umfassenden Autoritätsbefugnissen für notwendig. Deshalb sieht die amerikanische Verfassung ein Präsidialsystem vor. Der Präsident hat den Oberbefehl über die Streitkräfte, handelt im Namen der Vereinigten Staaten und mit Zustimmung des Senats Verträge mit anderen Ländern aus und ernennt wiederum mit Zustimmung des Senats Botschafter, Minister, Richter und andere Beamte. Darüber hinaus ist er allein für die Durchführung aller vom Kongress beschlossenen Gesetze verantwortlich. Minister werden in der Verfassung nämlich nicht erwähnt. Das Ministeramt hat sich erst in der Regierungspraxis entwickelt. Im Unterschied zu anderen Ländern sind die Minister direkt dem Präsidenten unterstellt, müssen seinen Anweisungen folgen und können von ihm jederzeit entlassen werden. Alle vier Jahre wird der Präsident in einem etwas umständlichen Mehrheitswahlprozess gewählt und darf höchstens zwei Amtsperioden regieren. Weist man dem Staatsoberhaupt massive Verfehlungen nach, kann er von einer Zweidrittelmehrheit im Senat seines Amtes enthoben werden.
The police presence increases noticeably the closer you get to the White House. Why the American president as head of state and at the same time head of government has extraordinary powers, has its reason in history. In order to reduce the very different interests of the 13 founding states to a common denominator, those of the heavily industrialized northern states and those of the southern st tes dominated by plantation economy, the Founding Fathers considered a central government with extensive authority powers necessary. Therefore, the US Constitution provides for a presidential system. The President, in command of the armed forces, negotiates agreements with other countries on behalf of the United States and with the consent of the Senate and, also with the approval of the Senate, appoints ambassadors, ministers, judges, and other officials. In addition, he alone is responsible for the implementation of all laws passed by Congress. Ministers are not mentioned in the constitution. The ministerial office has developed only in government practice. Unlike other countries, ministers are directly subordinate to the president, must follow his instructions and can be dismissed by him at any time. Every four years, the president is elected in a somewhat cumbersome majority voting system and may govern for a maximum of two periods of office. If a massive misconduct of the head of state is proved, he can be deposed by a two-thirds majority in the Senate.