Solomon R. Guggenheim Museum#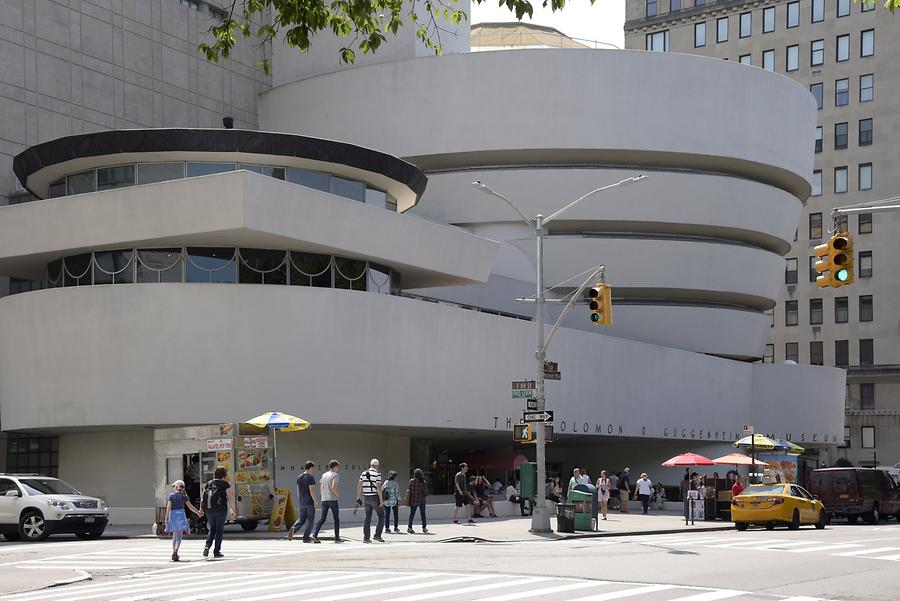 Wieder zurück im Zentrum Manhattans, erhebt sich nicht weit vom MET ein Gebäude, das schon bei seiner Eröffnung 1959 als Meilenstein der Architekturgeschichte galt. Frank Lloyd Wright hatte das Solomon R. Guggenheim Museum entworfen und stellt mit der kühnen Architektur die hier untergebrachte Sammlung der Kunst des 20. Jahrhunderts fast in den Schatten. Von außen wirkt das Museum wie ein auf den Kopf gestelltes Schneckenhaus. Innen windet sich eine spiralförmige Rampe nach oben, sodass man die abstrakten Kunstwerke aus verschiedenen Blickwinkeln betrachten kann. Die Meisterwerke von Kandinsky, Chagall, Kokoschka, Gauguin, Monet, Picasso & Co verdanken wir der Sammelleidenschaft des Kupferminenkönigs Solomon Guggenheim. Da er seine Liebe zur Kunst erst im Alter von 70 Jahren entdeckte, starb er schon Jahre bevor der Bau des Museums überhaupt begonnen hatte.
Back to the centre of Manhattan, not far from the MET, rises a building that was considered a milestone in the history of architecture at its opening in 1959. Frank Lloyd Wright designed the Solomon R. Guggenheim Museum and, with its bold architecture, it almost dwarfs the collection of twentieth-century art housed in it. From the outside, the museum looks like an upside down snail shell. Inside, a spiral ramp winds up, so one can look at the abstract artwork from different angles. We owe the masterpieces of Kandinsky, Chagall, Kokoschka, Gauguin, Monet, Picasso & Co on display here to the collector's passion of the coppermine tycoon Solomon Guggenheim. Since he discovered his love for the arts at the age of 70, he died years before the construction of the museum had even begun.