Coney Island - Boardwalk#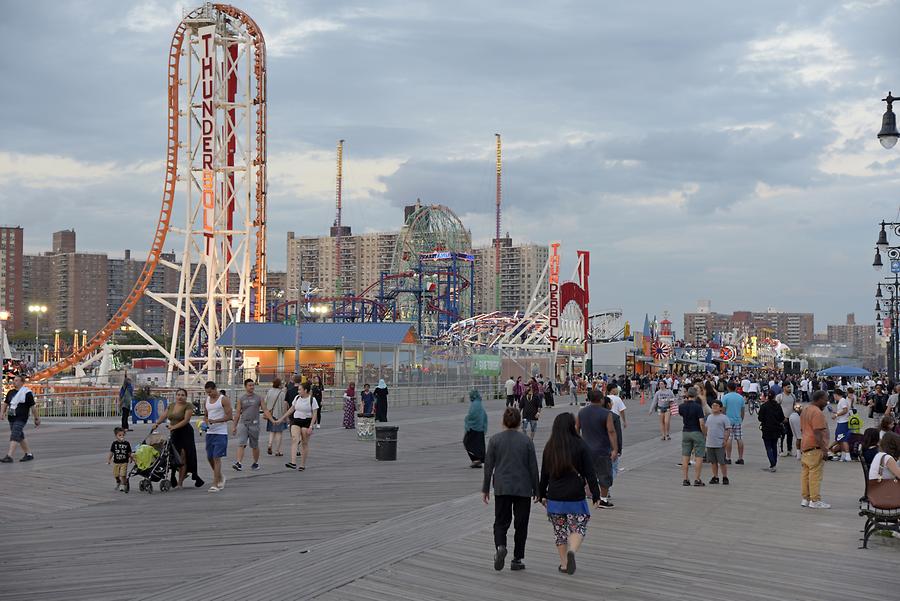 Coney Island
Coney Island, New York
hat schon bessere Zeiten gesehen. Im 19. Jahrhundert waren die schönen Strände der Halbinsel ein beliebtes Ausflugsziel für wohlhabende New Yorker Sommerfrischler. Doch nachdem die Gegend durch den Bau gewisser Amüsierlokale in Verruf geriet, zogen sich die Reichen zurück. Coney Island entwickelte sich zur Freizeitenklave für die Arbeiterklasse. Bald schon entstanden Achterbahnen, Schießbuden und Zirkuszelte, die sich zu einem großen Vergnügungspark zusammenfanden. Dieser boomte bis zum 2. Weltkrieg. Dann setzte der Niedergang ein. Doch seit dem Aufblühen New Yorks in den späten 1990er Jahren, erwacht auch Coney Island aus seinem Dornröschenschlaf. Alte Attraktionen werden renoviert, neue sind hinzugekommen. Man darf sich hier trotzdem keinen Vergnügungspark der Superlative erwarten. Ein Besuch lohnt vor allem deshalb, weil die Gegend ein sehr authentisches Bild des New Yorker Vorstadtlebens – weit weg von den Finanzpalästen Manhattans – bietet. Entlang des Boardwalks flaniert ein kunterbuntes Völkchen an Menschen, die den Lebensnerv der Megametropole wahrscheinlich viel besser repräsentieren als die Anzugträger der Wall Street.
Coney Island
Coney Island, New York
has known better days. In the 19th century, the beautiful beaches of the peninsula were a popular destination for wealthy New York summer vacationists. But after the area fell into disrepute by the construction of certain amusement bars, the rich retired to other places. Coney Island became a working-class recreation enclave. Soon, roller coasters, shooting galleries and circus tents appeared, which merged into a large amusement park. This boomed until World War II. Then the decline set in. But since New York's boom in the late 1990s, Coney Iceland awakes from a deep slumber. Old attractions are being renovated, new ones added. Nevertheless, one should not expect a superlative amusement park here. It's worth a visit, especially because the area offers a very authentic image of New York's suburban life - far from Manhattan's financial palaces. Along the boardwalk, a colorful crowd strolls around, people who probably represent the vital nerve of the megacity much better than the men in suits of Wall Street.