Brooklyn Heights - Promenade#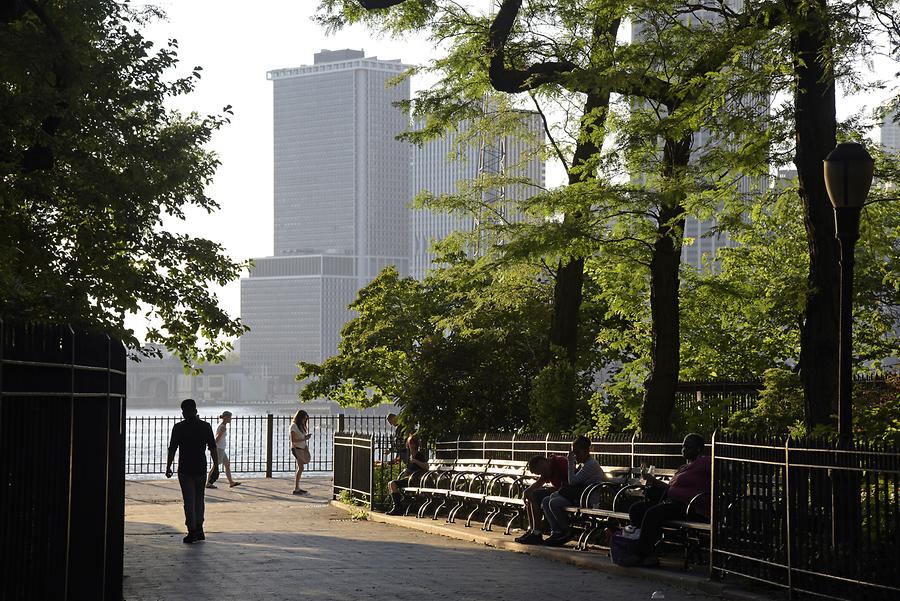 Dann öffnen sich die Häuserfronten Richtung Westen. Wer hier wohnen möchte, muss tief in die Tasche greifen, denn die Ausblicke sind überwältigend. Für weniger Betuchte hat man zumindest eine Promenade und einen Park errichtet, um die wohl schönste Sicht auf Manhattans Skyline genießen zu können. Ein Besuch lohnt sowohl zu Sonnenaufgang, wenn die Fassaden im ersten Morgenlicht erstrahlen, als auch zu Sonnenuntergang, wenn der Feuerball glutrot hinter Manhattan verschwindet und sich die Nacht allmählich über die Stadt stülpt.
Then the house facades open to the west. If you want to live here, you have to dig deep into your pocket, because the views are overwhelming. For the less fortunate one has at least built a promenade and a park to enjoy the most beautiful view of Manhattan's skyline. Worth a visit both at sunrise, when the façades shine in the first morning light as well as at sunset, when the sun disappears glowing red behind Manhattan and the night gradually falls over the city.