Ground Zero - Reflecting Pool#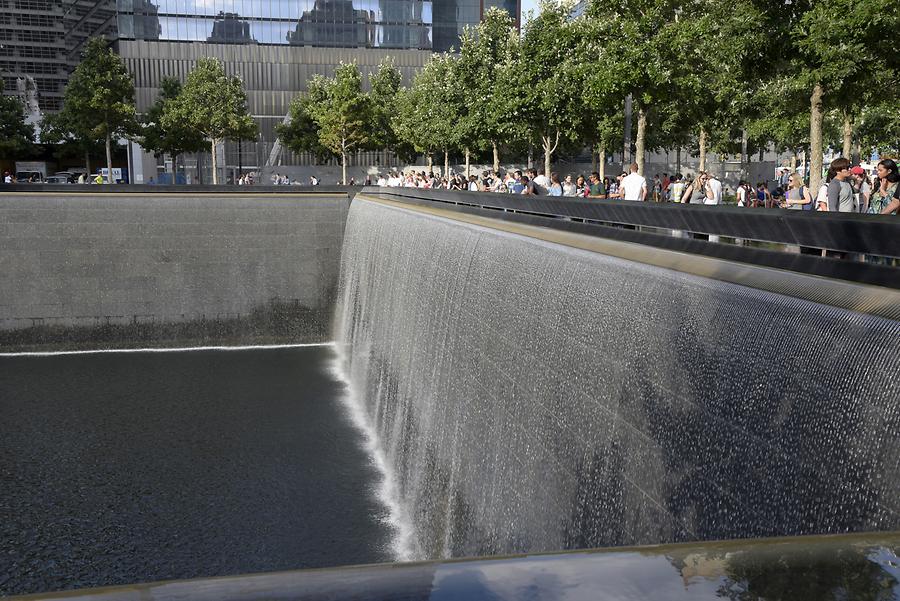 Im Außenbereich, der Memorial Plaza, symbolisieren zwei Reflexionsbecken die Stelle der eingestürzten Zwillingstürme. Von ihren Rändern ergießt sich Wasser ununterbrochen 9m hinunter in eine Vertiefung in der Mitte. Der Fluss des Wassers hat starken Symbolcharakter. Er beginnt als Sammelsurium aus hunderten einzelnen Strömen, die sich zu einem großem Strom kollektiver Verwirrung vereinen und endet mit einer langsamen Reise Richtung Abgrund. Der Errichtung der riesigen Memorial Plaza war ein erbitterter Streit vorausgegangen, ob man 3 ha wertvollsten Manhattan Boden für das Mahnmal gleichsam 'verschwenden' sollte. Doch die Angehörigen setzten sich mit ihrem Anliegen durch, das Areal nie wieder kommerziell zu nutzen.
In the outside area, the Memorial Plaza, two reflection pools symbolize the former location of the collapsed twin towers. From their edges, water pours continuously 9m down into a depression in the middle. The flow of the water has a strong symbolic character. It begins as an arrangement of hundreds of individual streams that merge into one great stream of collective confusion and ends with a slow journey towards the abyss. The construction of the huge Memorial Plaza was preceded by a bitter dispute over whether to 'waste' 3 hectares of Manhattan's most valuable land for the memorial. But the relatives prevailed with their concern, to never again use this area commercially.