Ellis Island - Immigration Museum; Inside#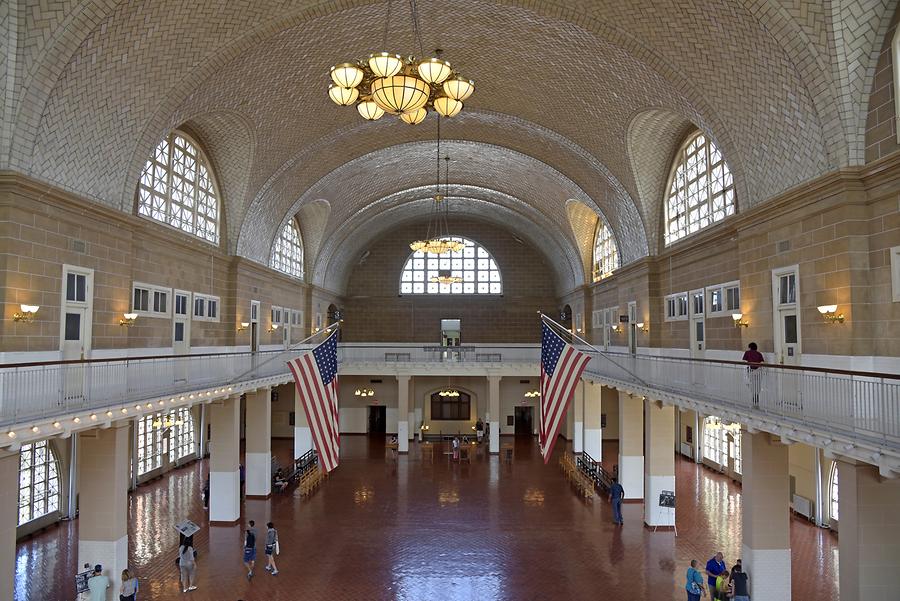 Mit angsterfüllten Gesichtern schritten die Menschen die Rampe empor, um in den Wartesaal zu gelangen, wo sich bis zu 12.000 Einwanderer pro Tag drängten. Dort wurden sie befragt und untersucht. Gleich zu Beginn mussten sie eine 50-stufige Treppe zum Registrierraum emporsteigen, wobei sie von Ärzten beobachtet wurden. Hatte jemand Probleme, deutete das auf ein Herzleiden hin und damit sanken seine Chancen auf Einwanderung dramatisch. Nur zwei Minuten entschieden hier über ein Lebensschicksal. Schwachen, Kranken, politisch Unerwünschten, aber auch alleinstehenden Frauen, Analphabeten und Armen wurde der Zutritt ins 'Land der Freien' verwehrt. Schnell erhielt Ellis Island den Beinamen 'Insel der Tränen'. Während der Einreiseprozeduren starben 3000 Menschen auf der Insel. 360 Kinder wurden hier geboren.  Kaum ein Gebäude hat mehr menschliche Tragödien gesehen. Hier traf die Verzweiflung der Alten Welt auf das Versprechen der Neuen Welt. Geschätzte 40 % aller Amerikaner haben heute mindestens einen Vorfahren, der Ellis Island durchlief.
Frightened, people walked up the ramp to enter the waiting room, where up to 12,000 immigrants a day huddled. There they were interviewed and underwent a medical check. Right at the beginning, they had to climb a 50-step staircase to the registry room, where they were observed by doctors. If someone had issues with it, this indicated a heart disease, which dramatically reduced his chances of immigration. Here, only two minutes decided on the personal fate. The weak, the sick, the politically unwanted, but also single women, illiterates and the poor were denied access to the promised land. Ellis Island quickly got the nickname 'Island of Tears'. 3000 people died on the island during the immigration formalities. 360 children were born here. Hardly any building has seen more human tragedies. Here the despair of the Old World met the promise of the New World. An estimated 40% of Americans today have at least one ancestor who entered via Ellis Island.