Jamestown Settlement - Indian Town#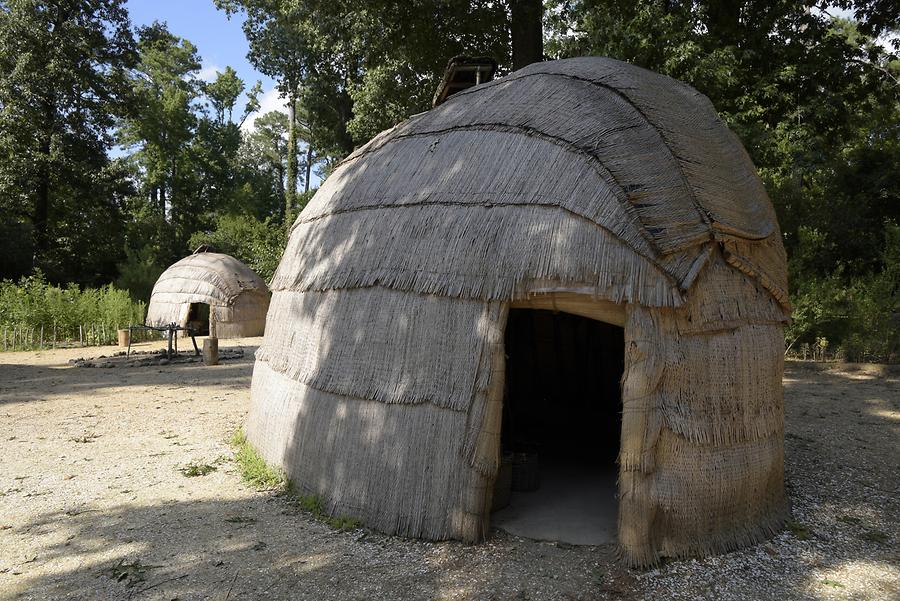 Am besten beginnt man eine Entdeckungsreise der amerikanischen Ostküste in Jamestown
Jamestown, Virginia
, wo englische Auswanderer im Jahr 1607 die erste dauerhafte, weiße Siedlung auf amerikanischem Boden gründeten. Doch sie waren nicht alleine, denn im Land lebten bereits Menschen – seit 18.000 Jahren. Über die trocken gelegte Beringstraße betraten die Menschen damals amerikanischen Boden. Mehrere Einwanderungswellen folgten, die größte vermutlich vor 14.000 Jahren. Die Indianer organisierten sich in zahlreichen, mehr oder weniger friedlichen Clans und ein günstiges Klima erlaubte vielen Völkern den Übergang vom Jäger- und Sammlerdasein zum Ackerbau. Allen Stämmen gemeinsam war ein Leben in enger Verbindung mit der Natur, die als beseelt angesehen wurde. Hinter jeder Naturerscheinung, ob Regen, Wind, Blitz oder Donner, vermutete man höhere Mächte in Form von Geistern. Dieses animistische, zutiefst naturverbundene Weltbild war den Neuankömmlingen aus Europa natürlich vollkommen fremd. Dazu kam eine überlegene Technik, der die Indianer nichts entgegenzusetzen hatten. Eingeschleppte Krankheiten, blutige Kriege, Versklavung und Inquisition taten das übrige. Wieviele Indianer hier vor Kolumbus lebten, lässt sich zwar nur schwer angeben. Die Schätzungen liegen zwischen 2 und 18 Millionen. Sicher ist nur, dass mindestens 9 von 10 Einheimischen die europäische Kolonisation nicht überlebten.
It's best to start a voyage of discovery on the American East Coast in Jamestown, Virginia
Jamestown, Virginia
where English immigrants founded the first permanent white settlement on American soil in 1607. But they were not alone, because people already lived in the country - for 18,000 years. At that time people entered American soil via the dry Bering Strait. Several waves of immigration followed, the largest probably 14,000 years ago. The Indians organized themselves in numerous, more or less peaceful clans and a favorable climate allowed many peoples the transition from hunter-gatherer to agriculture. All tribes had in common a life in close contact with nature which was regarded as animated. Behind every natural phenomenon, whether it was rain, wind, lightning or thunder, one suspected higher powers in the form of spirits. Of course, this animistic, deeply nature-loving world view was completely foreign to the newcomers from Europe. There was also a superior technology. The Indians had nothing comparable. Unknown diseases, bloody wars, enslavement and inquisition did the rest. How many Indians lived here before Columbus is difficult to specify. The estimates are between 2 and 18 million. What is certain is that at least 9 out of 10 natives did not survive European colonization.