Colonial Williamsburg - Governor's Palace#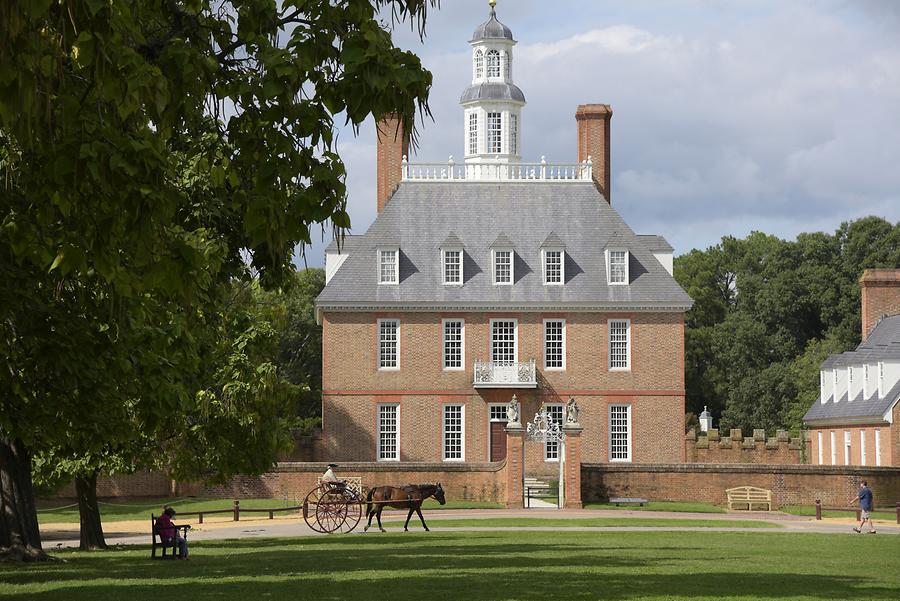 Ein kleiner Zeitsprung führt zum nächsten historischen Meilenstein, nach Williamsburg
Williamsburg, Virginia
, der neuen Hauptstadt von Virginia. Die erste englische Kolonie erstreckte sich damals bereits über große Teile der Ostküste. Übrigens: Virginia wurde benannt nach der Virgin Queen, der jungfräulichen Königin Elisabeth. Über das Leben der weißen Siedler erzählt eines der größten Museumsdörfer unseres Planeten, Colonial Williamsburg, belebt von hunderten Menschen in traditionellen Kostümen. Auf 120 ha und in 88 detailgetreu restaurierten Gebäuden erwacht die amerikanische Kolonialgeschichte zum Leben. Die Entdeckungsreise beginnt beim Sitz des Gouverneurs. An der Spitze der Kolonie stand ein Gouverneur, der zusammen mit 12 vom britischen Königshaus bestimmten Ministern regierte. Ihm zur Seite stand das House of Burgesses, das gesetzgebende Parlament. Die Mitglieder des Bürgerhauses wurden von allen Wahlberechtigten der Kolonie bestimmt. Jeder Landkreis stellte zwei Abgeordnete. Wahlberechtigt waren alle freien Männer, während Frauen, Hausangestellte, Sklaven und Indianer kein Stimmrecht hatten.
A short time leap leads to the next historic milestone, to Williamsburg
Williamsburg, Virginia
, the new capital of Virginia. In the old days the first English colony already sprawled over large parts of the east coast. By the way, Virginia was named after the Virgin Queen, the virgin Queen Elizabeth. One of the largest open air museums of our planet, Colonial Williamsburg, tells about the life of the white settlers, animated by hundreds of people in traditional costumes. On 120 hectares and in 88 detailed restored buildings, American colonial history comes alive. The voyage of discovery begins at the office of the governor. At the head of the colony was a governor who ruled along with 12 ministers appointed by the British royal family. He was assisted by the House of Burgesses, the legislative parliament. The members of the community centre were elected by all eligible voters of the colony. Each district provided two deputies. All free men were enfranchised, while women, domestic workers, slaves and Indians were not entitled to vote.