Atlantic City - 'Taj Mahal'#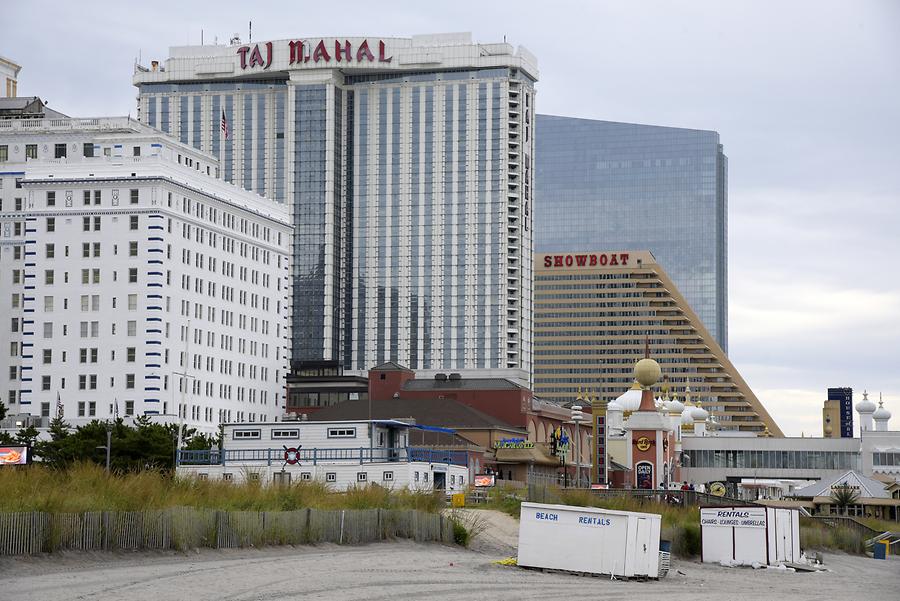 Vor einigen Jahren kam abermals der Niedergang. Das echte Las Vegas boomte wie nie zuvor und zog zahlreiche Gäste ab. Auch die Legalisierung des Glückspiels in mehreren umliegenden Bundesstaaten verschlimmerte die Situation. Zahlreiche Casinos mussten schließen, darunter alle vier Glückstempel von Donald Trump, auch das legendäre Taj Mahal. Trump nannte es einst das Achte Weltwunder. Mehr als eine Milliarde Dollar hatte er in das damals größte Casino der Welt investiert, 42 Stockwerke hoch, 1250 Zimmer, 3500 Spielautomaten und 3000 Mitarbeiter. An Kitsch und Protz war das Taj Mahal weltrekordverdächtig. Österreichische Kronleuchter, verschnörkelte Spiegel, Pseudo-Barock und Leopardenfell-Sessel – garniert mit viel Gold und Marmor – all das nützte nichts. Die Gäste blieben aus. Als sich der Konkurs 2009 abzeichnete, zog sich Trump schnell aus dem Projekt zurück – dank Boni mit Gewinn, wie der spätere Präsident der Vereinigten Staaten immer wieder betont. 2017 wurden die letzten Einrichtungsgegenstände bei Auktionen verramscht. Das Gebäude verfällt. Tristesse auf dem Boulevard der Träume.
A few years ago the decline came back. The real Las Vegas boomed like never before and pulled off numerous guests. Legalization of gambling in several surrounding states also aggravated the situation. Numerous casinos were forced to close down, including all four of Donald Trump's gambling places, including the legendary Taj Mahal. Trump once called it the Eighth Wonder of the World. He had invested more than a billion dollars in what was then the largest casino in the world, 42 stories high, with 1,250 rooms, 3,500 gaming machines and 3,000 employees. In terms of kitsch and show-off, the Taj Mahal was probably world record-holding. Austrian chandeliers, ornated mirrors, pseudo-baroque and armchairs with leopard skin - garnished with lots of gold and marble - all this was useless. The guests stayed out. When bankruptcy loomed ahead in 2009, Trump retreated quickly from the project - thanks to bonuses with profits, as the later President of the United States repeatedly stressed. In 2017, the last furnishings were sold off at auctions. The building decays. Tristesse on the boulevard of dreams.