Machu Picchu#
by Stas Sedov and Dmitry Moiseenko, members of the AirPano Team that is a member of the global-geography Consortium.

19 March 2012
with kind permission of AirPano
I don't remember the beginning of our journey to Machu Picchu that well... Dima and I flew to Cusco (3600 m above the sea level), and after continuous bargaining hired a cab for local sightseeing. I felt sort of alright in the beginning, but when we arrived to Pisac, the ancient Inca Fortress (about 4000m altitude), my un-acclimatized body inevitably gave up to the altitude sickness.
We planned to spend a night on the way to Machu Picchu in Ollantaytambo at 2600-2700m altitude. I am grateful that Dima booked a hotel there and not in Cusco. I remember only one thing — dragging my feet from taxi to the hotel room and crashing on my bed.
Next morning we took a train to Machu Picchu. By the way, curiously enough there are two types of trains on route: Cusco — Ollyanta — Machu Picchu: one type for locals, and one for tourists (not sure if it is true for the rest of the country though). Meaning if you are a foreigner, you won't be able to purchase a local train ticket. It's definitely something to keep in mind when planning a trip.
The train arrives to a little town located at the bottom of the canyon. One can reach the ancient ruins by a long tiring hike, or by a tourist bus. There are no taxicabs here. In fact, the number of tourists and transportation is very limited here. One more "catch" for a forgetful traveler: if you didn't order your museum tickets online beforehand, you are doomed — there is no ticket registry at the entrance! Number of visitors is limited to 2000 a day for the general area of Machu Picchu, and some corners of the ancient City of Incas are even more restricted.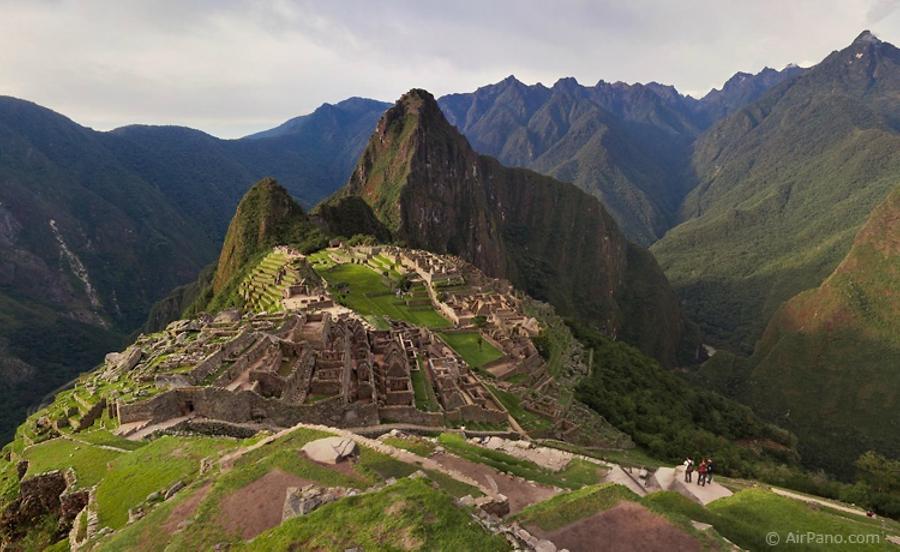 Being aware of the transportation challenges around Machu Picchu, Dima (sighing and grinding his teeth) booked us a room in the only hotel located by the very entrance to the museum: Sanctuary Lodge. Obviously, monopolization has never helped to maintain reasonable prices. Our very modest room for two with nice little yard was $1200 per night. Please note that the hotel is located a bit lower than the Incas City, so there was no view to speak of. This butter pill of the unspeakable price was sweetened by the fact, that it included everything: food (a modest dinner for two in a local restaurant would cost you about $100), a mini bar and even a Jacuzzi on one of the terraces in the jungle. However, the most attractive feature of them all for us was the location — only 50 meters to the museum entrance. And future events proved that we made a right choice.
And so we have arrived. I quickly assembled the helicopter and tried to lift it off right in front of our room. Despite the altitude of about 2500m, our machine worked just fine. Only our GPS navigator (same as in Nasca!) refused to detect even a minimum number of satellites. Good that we are quite experienced by now to fly this helicopter manually.
Prepared for the first flight, we headed to the museum entrance. The sight of our helicopter shocked the lady at the checkpoint. It took her a while to understand what we were saying about this equipment and how it's used. Following events did not go according to our plan. We were prohibited to bring this equipment onto the museum territory. We reached the Head Manager. This very important man, who spoke zero English, was adamant: "You can only use a professional photo equipment with a special permit from the Ministry of Culture in Cusco. (Round trip would take a whole day, and as we know from our Nasca experience, a person in charge may not even be there). If there is no permit — leave your equipment in a locker by the entrance."
All our attempts to explain (with the help of young museum workers, who volunteered to interpret for us) that we didn't have time to return to Cusco, and that we were willing to pay for the permit on the spot did not make any difference. We used up all our tricks: showing our photos of Egyptian pyramids and other wonders of the world, bagging, offering cash. Nothing! His face softened a bit, but it seemed that he had no interest in taking on responsibility and helping us. As I understood from the conversation with the young associates, the fact that it was no office, nor ticket registry near by meant that there was no way to sell us tickets for professional photography, like they did in Egypt. And we were not the first group that faced this problem in Machu Picchu.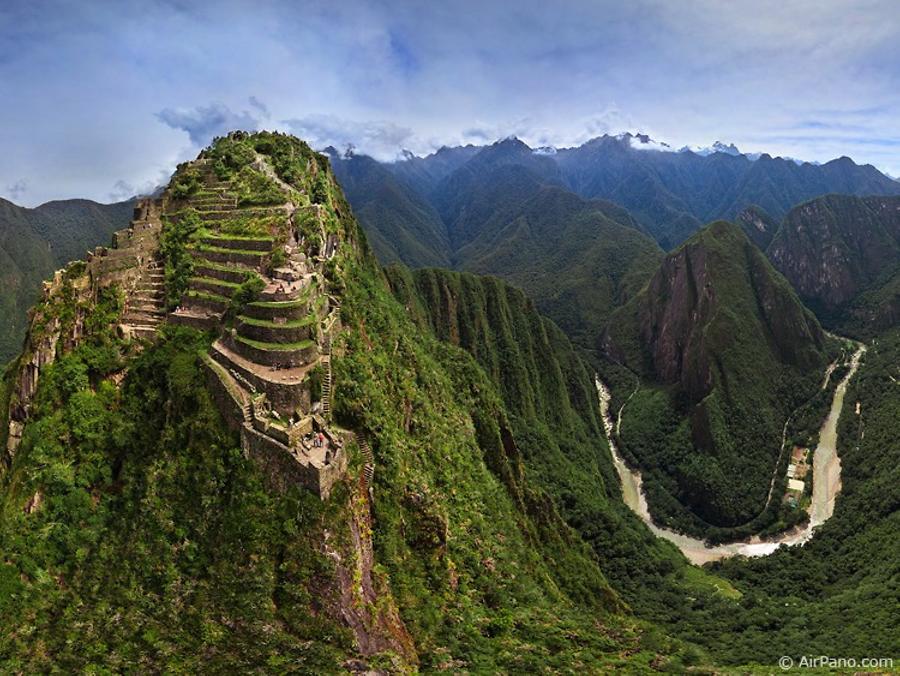 One of the museum workers, who sincerely tried to help us, suggested to send a written request to Cusco and obtain the permit remotely. We jumped on this opportunity and sent an email to Cusco right way. Later we realized that the Ministry is not bothered by problems of foreign photographers who traveled through half of the world with a helicopter in their suitcase. Not that day, nor any of the following days we haven't received a reply.
So that night we withdrew after our first attempt. We left the helicopter in the hotel and rushed uphill to shoot panoramas from a tripod. The museum security was ever watchful: any large bag must be left in a locker by the entrance. Even our panoramic head drew suspicious looks from security, so Dima had to swear that this was amateur equipment. They then left us in peace, but not for long — the museum was closing at 5pm. There was absolutely no way to stay for the sunset. The security couldn't be bribed, as they are afraid to lose their jobs, so money has no influence there.
Sad and disappointed we walked towards the exit. Trying to bug the big boss again we figured out that he — being a big boss — left earlier today. There was a small group of guides by the entrance. One of the guys asked us if we needed help.
— Yes, we replied, we need help. Let's step aside and have a talk.
After a long conversation the guy offered to take our helicopter through the security in his backpack. There was a chance of success, as they didn't check guides that vigorously.
Next morning we began with a raid behind enemy lines

During the night I disassembled the helicopter, and in the morning three of us packed it parts into backpacks and pockets. I went first carrying remote control and about 7-8 kilos of power batteries in my backpack. I managed to snick in under the radar of yesterday's lady at the checkpoint along with the morning crowd. Our guide arrived to the rendezvous point in 10 minutes. Disembodied helicopter did not fit in his backpack, so we covered it with some plastic bags, which however didn't alarm the security. Dima joined our group in a few more minutes.
The guide suggested starting our session at Huayna Picchu (Wayna Picchu), the remote mountain, which allows a panoramic view of Machu Picchu. There is almost no security there, only tourists taking endless photos of Machu Picchu. In order to access this mountain one has to purchase online tickets beforehand and go through another checkpoint, which opens at 7am. Only 200 visitors are let through. Next group of 200 people can go in only after 10am.
We stood in line. While waiting for the checkpoint to open Dima went to take a few ground level photos of Machu Picchu, and I started filming a documentary. After a few of my comments in Russian for the film, a man standing right behind me introduced himself as "Konstantin from Russia". So we started to talk.
It is a very small world indeed. Konstantin knew about AirPano.ru, and even went to Greenland with one of our founders — Oleg Gaponyuk — a couple of months ago. Naturally, there were 4 of us going up the mountain after that. Our guide went first, jumping from boulder to boulder with ease, Konstantin followed him, then Dima and myself, breathing heavily under our backpacks.
Ascending Huayna Picchu requires good physical condition. The entire path is made of steep stone steps, where one has to use a rope or a wire stretched along side the trail. My mistake was to wear rubber "crocs" which are absolutely not appropriate for this type of climbing. Can't tell you how much I suffered on my way up!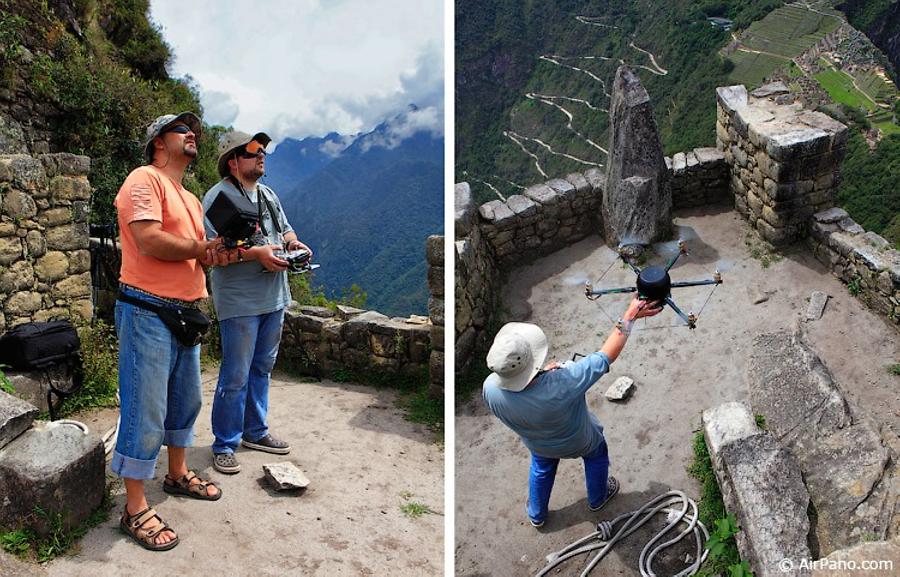 We picked a spot to fly the helicopter. We were looking for the closest proximity to Machu Picchu, but anyway, to my opinion, this mountain didn't work for our purpose at all — too far away from the Inka City. Nevertheless we decided to take off. The guide wisely disappeared: he didn't want to loose his license in case the museum security gets to us. He never asked to be paid for his help. Thank you very much, good man! Only because of him people of Planet Earth will be able to admire Machu Picchu from bird's eye view

I quickly assembled the machine, took a deep breath and took off into the abyss. It was rather challenging to fly in strong wind currents near the observation point. However we managed to shoot several spherical panoramas. As soon as the helicopter landed we heard applauding behind our backs: quite a few tourists, apparently, have been watching us from different spots, enjoying our little show.
Unfortunately, after our second flight a piercing whistle came from the top of the mountain and in a couple of minutes we saw a museum worker running towards us. Breathing heavily he couldn't say anything but "Pasaporte!" for the first minute. He grabbed our passports and offered to walk back to the administration. It's worth saying that Machu Picchu security is organized very well. All personnel were in good shape, attentive, equipped with radio sets and apparently never accept bribes.
We had no choice but to pack and walk down. As soon as I took the helicopter apart and put it in the plastic bag, the security officer immediately grabbed it from my hands. Konstantin was taken to the administration with us too. I suggested he conveniently 'get lost' on the way back, but he said that he was not afraid of the problems and would resolve this situation with us. Konstantin spoke Spanish, so this could help in our negotiation with the authorities.
Our escort grew as we descended. We walk through Machu Picchu under an impressive convoy: 3 security guards before us, and 3 behind us — straight to the Chef of the park police. With a help of one of the museum people named Marco, we once again told our story about our non-for-profit project, about lack of time for obtaining a permit, and about willing to pay for the photography right now. Dictated by Marco, the Chef has been writing a protocol for about an hour and a half. They questioned us about how we managed to take the equipment through the security with a special attention. As if people saw us with one of the guides, so "please, tell us his name". We told them that we knew nothing of a guide, that we carried the equipment in our backpacks, and nobody paid attention to it. Museum personnel and Chef of Police pretended that they believed us.
Then they invited their "engineer", who inspected our cameras looking for prohibited photos of Peru's famous sights. Improvising, we made up a new legend for the locals: we only made test flights, and so we couldn't photograph Machu Picchu. True enough, the engineer didn't find any "criminal" images in our cameras. But of course, the entire photo session was hidden on Dima, don't ask me where

Our hotel checkout time was approaching. Dima asked the police to let us go and take care of it, and to my surprise they agreed. They only asked to come back later to sign some paperwork and to collect our equipment.
Tired but happy with our little victory we went to pack our stuff in the hotel. On the way, while thinking that we should have let more time to shoot Machu Picchu, Dima suddenly remembered that we had an extra day before our departure from Cusco. Originally we didn't plan to stay in this little and very expensive Tourist Heaven, but after considering all odds we decided to repeat our "assault" of the City.
By the way, if you dare to spend one more night in the Sanctuary Lodge, you can get a discount. Usually visitors spend only one night here. We were lucky that they had vacancies, so we received a 30% discount for the second night.
After lunch we decided to go photographing the city from inside. We stopped by the police office and signed the protocol. They also asked us to seal our signatures with our index finger prints. How peculiar. I took my helicopter and brought it back to the hotel.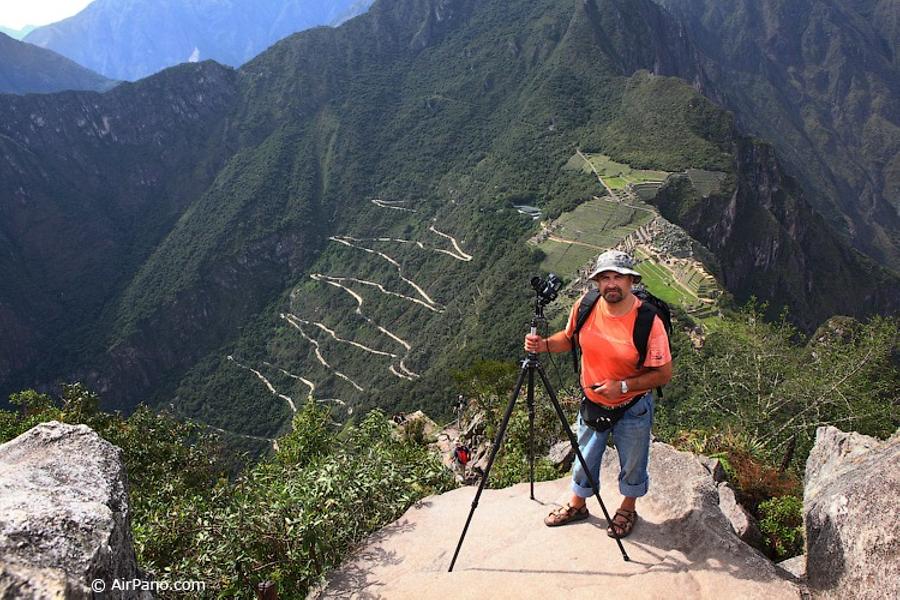 News about Russian violators of the air space spread in Machu Picchu like fire. From that moment on every single museum worker knew our faces. Everybody smiled at us, greeted us, and at the same time watched our bags and us closely. We smiled in reply, took ground level photos of Machu Picchu and looked for a way to fly again. By the end of the day we found it.
Unfortunately, our Russian colleague Konstantin could not stay for one more night in Machu Picchu: his trip had to continue to Bogota (Colombia). In a few days he sent us a text message: he was robbed right on a street in Colombia, and so his camera, his backpack and all his photos taken in Peru were gone.
As for us, we decided to fly our helicopter in the morning right from the hotel. Officially the hotel was located outside of the museum territory, and — theoretically, if we flew really high — we could photograph the entire City.
It rained all night. In the morning a large cloud was right in front of our window. Our chances for success were close to zero. I won't event start describing our disappointment. Well, there was no other choice but to go back to the museum.
While Dima shot ground level panoramas, I made a short time-lapse: one hour in the life of the ancient Inca City. The film shows how quickly the weather changes; how clouds appear from nowhere and rapidly dissolve; how the wind changes its course. One moment the sun shines bright, and the next moment it's behind the clouds.
So we got our good weather finally. Of course, there was no guarantee, because you cannot see the City from the hotel, but we were willing to try nevertheless in one of those short sunny intervals.
So I went out to the little yard in front of our hotel room and guided the helicopter up into the air. Not so high, not more than 100 meters. This immediately attracted the security, blowing whistles again. Paying no attention to them I changed the battery and took off as high as I could — the helicopter was almost invisible in the sky. Whistles became stronger, but they were helpless as they were on the museum territory, on the terrace, about 50 meters above us. After the second flight the sun was gone. We moved our equipment indoors, just in case. Interesting that nobody came to arrest us this time. Later I tried to talk people at the checkpoint into letting me fly from the bus station in front of the checkpoint, but they told me if I try it again, they'd call the police. Then, having left the RC helicopter at the hotel, we decided to climb the second mountain's top where the ancient Inca city lies down at the foot of the both mountains. The first mountain is called Huyana Picchu, the second one — Machu Picchu, which is visited by the tourists much less.
The path to this mountain goes through about 500m elevation. The trail is made of stone steps. All steps are counted: 1700! Usually the path takes one hour and a half, but we spent about two hours climbing up with our backpacks. We got into the storm on the way and got soaked through and through.
The view of Machu Picchu from the top of that mountain was magnificent! It is absolutely worth time and effort. Unfortunately, there was almost no sun light on Machu Picchu. And after our descent the weather turned bad completely: it rained and rained till the dark.
Flying in the mountains in such weather is a suicide, so we quickly packed our equipment, and went to say good-bye to Machu Picchu, the most famous treasure of Peru. New travels and new photographic adventures awaited us: Cusco — Lima — Santiago — Easter Islands. But this is a completely different story...