Plantation Owner's House 'Jardin du Roi'#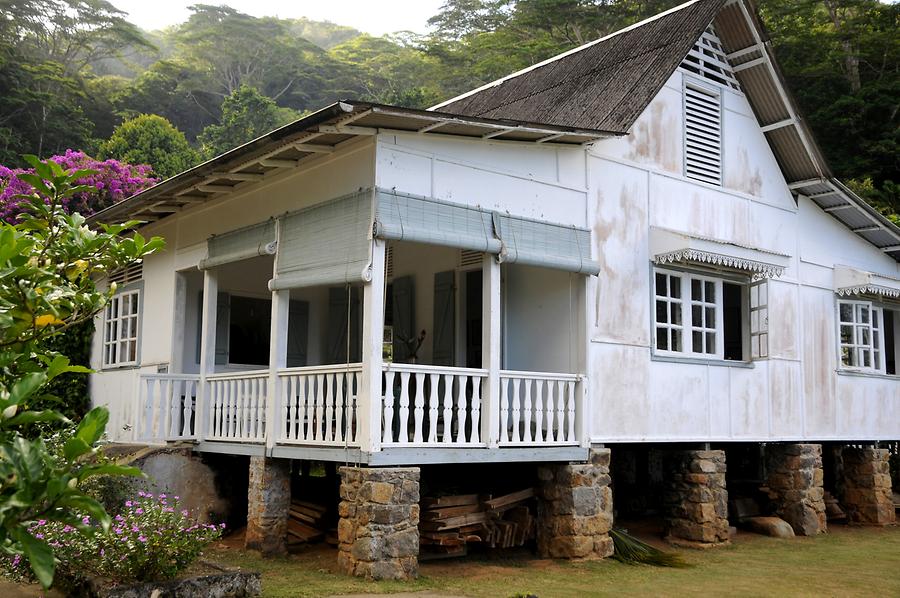 On the estate of a former planter family, the 'Royal Garden', the 'Jardin du Roi', offers insights into the secrets of spice cultivation. At the beginning of the 18th century the adventurer Pierre Poivre, on behalf of the French, smuggled spice plants from the Dutch colonies in Southeast Asia to Mauritius, thus establishing the spice cultivation from Madagascar to the Seychelles. His actions were life-threatening, because the Dutch, in order to maintain their extremely lucrative spice monopoly, had forbidden such smuggling under penalty of death. In those days, pepper was among the most profitable plants. The fruits of the up to 10 m high pepper tree are harvested twice a year. In former times pepper was the only available spice for a sharp flavour. Thus it dominated the spice trade between Europe and Asia for hundreds of years. It was only with the discovery of America that the chili from there outstripped the pepper.
Am Anwesen einer ehemaligen Pflanzerfamilie verspricht der 'Königliche Garten', der 'Jardin du Roi', Einblicke in die Geheimnisse des Gewürzanbaus. Anfang des 18. Jahrhunderts schmuggelte der Abenteurer Pierre Poivre im Auftrag der Franzosen Gewürzpflanzen aus den holländischen Kolonien Südostasiens nach Mauritius und begründete so den Gewürzanbaus von Madagaskar bis zu den Seychellen. Seine Aktionen waren lebensgefährlich, weil die Holländer zur Wahrung ihres äußerst lukrativen Gewürzmonopols derartigen Schmuggel mit der Todesstrafe ahndeten. Zu den gewinnbringendsten Pflanzen zählte damals Pfeffer. Die Früchte des bis zu 10 m hohen Pfefferbaumes werden zweimal jährlich geerntet. In früheren Zeiten war Pfeffer das einzig verfügbare Gewürz, um einen scharfen Geschmack zu erzeugen. So dominierte er jahrtausendelang den Gewürzhandel zwischen Europa und Asien. Erst mit der Entdeckung Amerikas lief das von dort stammende Chili dem Pfeffer seinen Rang ab.