Anse Source d´Argent#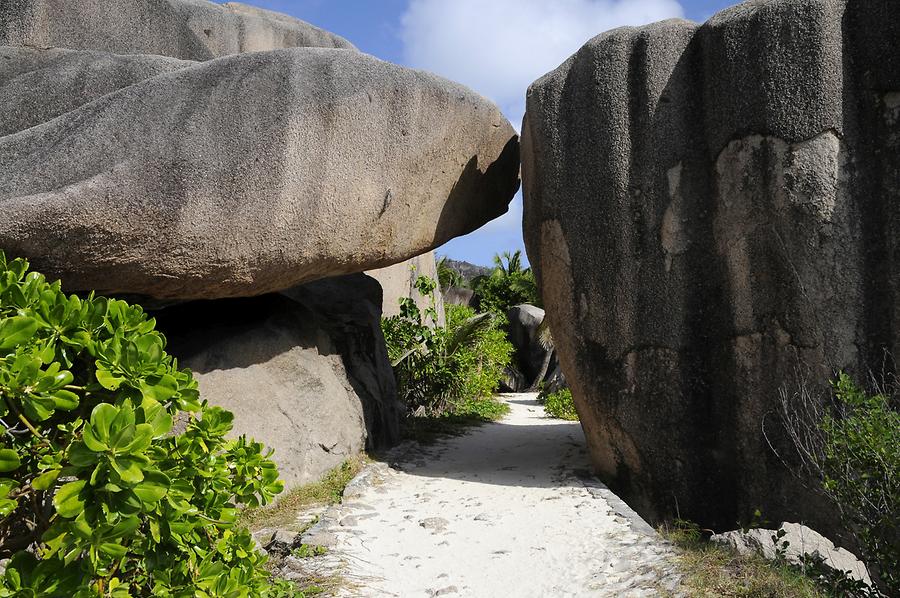 Everybody knows the advertising posters of Bacardi, Bounty and Co. They all show the Seychelles picture-book beach par excellence: the Source d'Argent. You will not find a silver source here, but fantastic bays, hidden between high palm trees and bizarre granite rocks. For the last time we enjoy here what makes the Seychelles the Garden of Eden: pristine, often unpeopled landscapes, a high degree of tranquility, good-natured people and a contemplative life. Perhaps even a little bit of this paradise can be taken home, or as Marcel Proust said: 'AAlways try to keep a patch of sky above your life'.
Wer kennt sie nicht, die Werbeplakate von Bacardi, Bounty und Co. Sie alle zeigen den Seychellen-Bilderbuchstrand schlechthin: die Source d´Argent. Eine Silberquelle findet man hier zwar nicht, dafür aber traumhafte Buchten, versteckt zwischen hochaufragenden Palmen und bizarren Granitfelsen. Noch ein letztes Mal genießen wir hier, was die Seychellen zum Garten Eden macht: unberührte, oftmals menschenleere Landschaften, ein hohes Maß an Ruhe, eine gemütliche Bevölkerung und viel Beschaulichkeit. Vielleicht gelingt es sogar, ein kleines Stück des Paradieses mit nach Hause zu nehmen oder wie schon Marcel Proust meinte: 'Versuche stets, ein Stückchen Himmel über deinem Leben freizuhalten'.