Tamnougalt - Kasbah; Courtyard#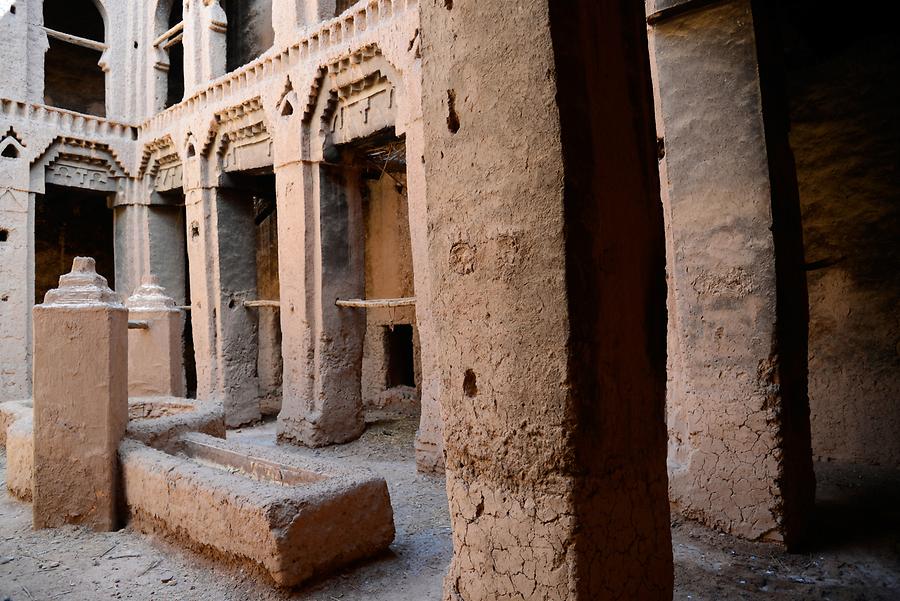 The typical house in a ksar has two floors. Small rooms are grouped around an open courtyard. The basement is for the livestock. And the upper floor is used by the family. The roof terrace often offers some more sleeping accommodations. The building material is a combination of unfired clay bricks and a mixture of mashed clay and straw. The walls, usually 50 cm thick, protect the house against the summer heat and the winter cold. Heavy rains are a problem as they make constant repair work necessary.
Das typische ksar-Haus hat zwei Stockwerke. Um einen offenen Innenhof gruppieren sich kleine Zimmer. Unten lebt das Vieh. Darüber wohnt die Familie. Die Dachterrasse beherbergt oftmals noch einige Räume zum Schlafen. Als Baumaterial dient eine Kombination aus ungebrannten Lehmziegeln und einer Mischung aus gestampftem Lehm und Stroh. Die üblicherweise 50 cm dicken Mauern schützen das Haus vor sommerlicher Hitze und winterlicher Kälte. Ein großes Problem bilden heftige Regenfälle, die ständige Ausbesserungsarbeiten notwendig machen.