Canyon near Aït M'hamed#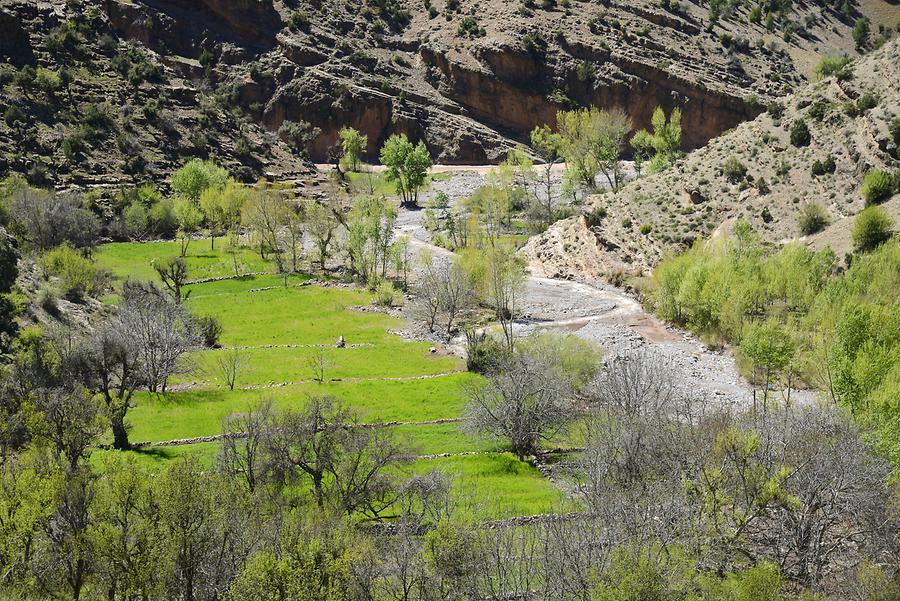 The closer you get to the main ridge of the Atlas, the deeper the canyons the numerous rivers are trenching through the mountains. The people live entirely from agriculture and livestock farming. On irrigated terraced fields various kinds of fruit grow - mainly apples, but also vegetables and cereals. In between there are sheep and goats. Like from time immemorial, the fields are tilled with hoes. Donkeys are the main means of transport. Largely cut off from the tourist outside world, time seems to stand still here for centuries.
Je näher man dem Hauptkamm des Atlas kommt, umso tiefer werden die Schluchten, die die zahlreichen Flüsse durch das Gebirge graben. Die Menschen leben ausschließlich von Ackerbau und Viehzucht. Auf bewässerten Terrassenfeldern gedeihen Obst – vorwiegend Äpfel, Gemüse und Getreide. Dazwischen tummeln sich Schafe und Ziegen. Die Felder werden wie seit jeher mit Hacken bearbeitet. Esel dienen als Haupttransportmittel. Weitgehend unberührt von der touristischen Außenwelt scheint die Zeit hier vor Jahrhunderten stehen geblieben zu sein.