Marrakech - Djemaa el-Fnaa#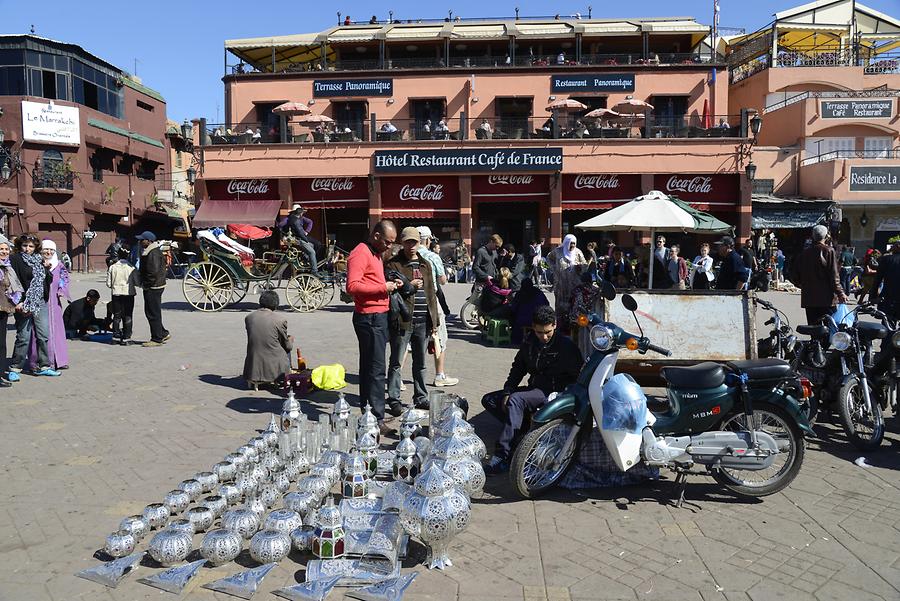 On this square, its name sometimes translated as 'assembly of the dead', once criminals and rebels were executed and their heads exhibited until only the bare skulls remained. Today, numerous cafés and restaurants line the square. In the morning the market takes place. And in the afternoon, the Djemaa el-Fnaa turns into an entertainment stage for street performers and travelling artists before turning into an oversized communal kitchen at dusk. Hundreds of food stalls then provide plenty of Arabic delicacies. The whole spectacle of 1001 Nights is even listed as a UNESCO World Heritage.
Am "Platz der Gehenkten" wurden einstmals Verbrecher und Rebellen hingerichtet und ihre Köpfe so lange ausgestellt, bis nur noch die kahlen Schädel übrig blieben. Heute säumen zahlreiche Cafes und Restaurants den Platz. Vormittags wird Markt gehalten. Nachmittags mutiert der Djemaa El Fna zur Unterhaltungsbühne für Strassenkünstler und Gaukler, bevor er sich - mit Einbruch der Dämmerung – in eine überdimensionale Volksküche verwandelt. Hunderte Garküchen sorgen dann für jede Menge arabische Köstlichkeiten. Das ganze Spektakel aus 1001 Nacht findet sich sogar auf der Liste des UNESCO-Welterbes.