Marrakech - Dar Si Said#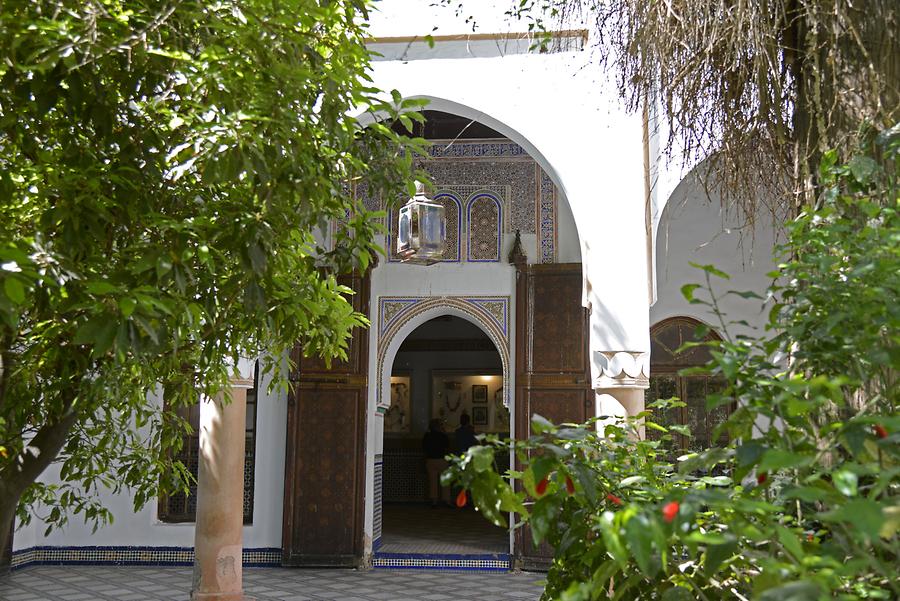 At the end of the 19th century Dar Si Said was built as a residential palace for a brother of the Grand Vizier. The best craftsmen made the luxury residence a prime example of umobtrusive elegance. Due to the Islamic ban on images, ornament art reached its golden age. The main feature of the Moorish architecture is the horseshoe arch. It gives the buildings a rising, skyward effect. Under the cedar wood ceilings and stucco stalactite vaults, the perfect arabesques emanate a magical effect, illustrating in a kind of sacred geometry the infinity of the universe. Often, ornaments join with calligraphic scriptures from the Koran, always referring to the omnipotence of God.
Ende des 19. Jahrhunderts entstand Dar Si Said als Wohnpalast für einen Bruder des Großwesirs. Die besten Handwerksmeister machten die Luxusherberge zu einem Paradebeispiel zurückhaltender Eleganz. Aufgrund des islamischen Bilderverbots entwickelte sich die Ornamentkunst zu beispielloser Blüte. Hauptmerkmal der maurischen Architektur ist der Hufeisenbogen. Er gibt den Gebäuden eine aufstrebende, himmelwärts gerichtete Wirkung. Unter den Zedernholzdecken und Stalaktitengewölben aus Stuck strahlen die formvollendeten Arabesken eine magische Wirkung aus, die in einer Art heiligen Geometrie die Unendlichkeit des Universums illustrieren. Oftmals verbinden sich Ornamente mit kalligraphischen Schriften aus dem Koran, die immer auf die Allmacht Gottes verweisen.