Marrakech - Ben Youssef Madrasa#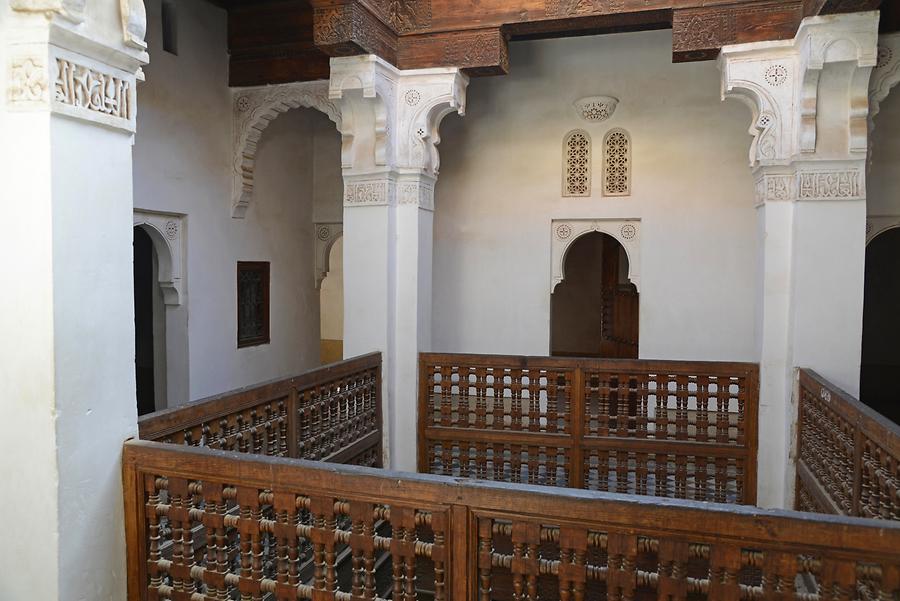 Much earlier, in the 14th century, the Marinid dynasty built a madrasa, which was later expanded to become the largest Islamic boarding school in North Africa. Almost a thousand students lived in the narrow rooms. Until 1960, the students were taught not only in religious and legal matters, but also in mathematics, medicine, natural sciences, philosophy and geography. Those who successfully passed an entrance examination were allowed to study at a madrasa from the age of 8 years. The education took 15 years on average. The courses and exams were not bound to a specific age. The teacher alone decided when a student was ready. And therefore, ten- and thirty-year-olds often studied together in a group.
Schon wesentlich früher, im 14. Jahrhundert, errichteten die Meriniden eine Medrese, die später zum größten Koraninternat Nordafrikas ausgebaut wurde. Fast tausend Studenten lebten in den engen Kammern. Bis 1960 wurden die Schüler nicht nur in religiösen und rechtlichen Angelegenheiten, sondern auch in Mathematik, Medizin, Naturwissenschaften, Philosophie und Geographie unterrichtet. Wer eine Aufnahmsprüfung erfolgreich absolvierte, konnte ab einem Alter von 8 Jahren an einer Medrese studieren. Die Ausbildung dauerte im Schnitt 15 Jahre. Die Kurse und Prüfungen waren nicht an bestimmte Altersklassen gebunden. Der Lehrer entschied allein, wann ein Schüler jeweils soweit war. So studierten oft Zehn- mit Dreißigjährigen in einer Gruppe.